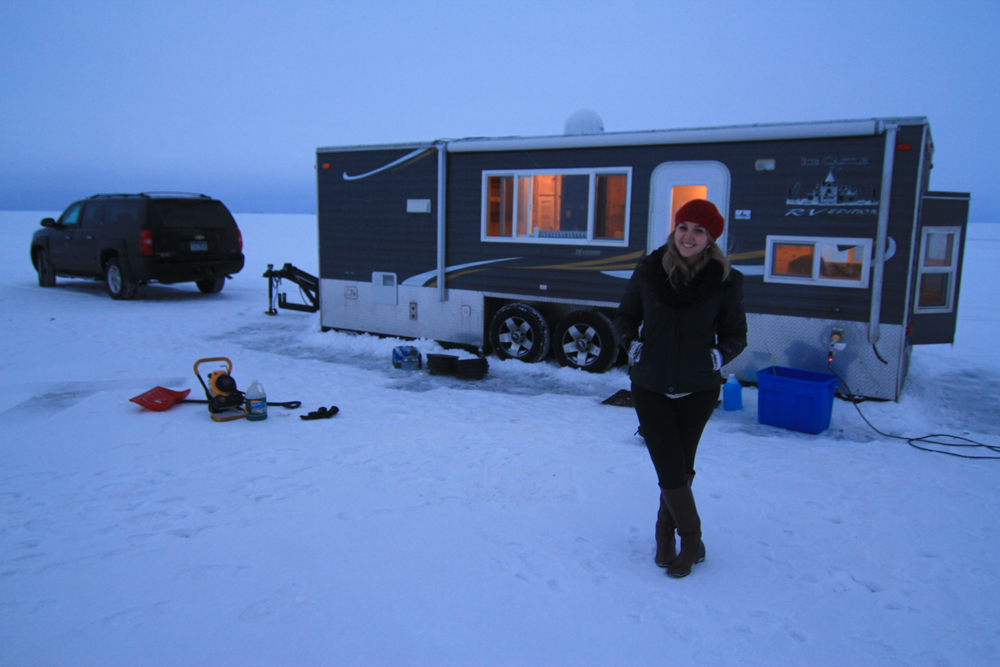 Oi Amigos,
Em Minnesota o frio eh tanto, que lagos inteiros congelam, e uma coisa que o povo de la adora fazer eh dirigir sobre o gelo e pescar. Isso mesmo, vc leva sua "casa do gelo" que pode ser um "trailer" ou uma "barraca" para o lago, faz um buraco no chão e fica ali, no conforto do seu "lar" esperando o peixe morder a isca. Dentro dessas casas sempre tem um aquecedor, do contrario vc pode morrer de frio, literalmente. Nesse dia estava -26˚C no lado de fora.
A familia do meu marido, adora pescar no gelo, por isso eles tem esse trailer super legal, com cozinha, TV e 4 camas. Assim que eles se divertem nos meses gelados do lado de la. Eu soh estive no lago com eles por algumas horas, e sempre com medo daquele gelo rachar e irmos todos por agua abaixo.. haha, e todo mundo soh ria de mim, pois quando o gelo chega a 1m de espessura eh seguro ter todo esse peso sobre ele, mas pra mim isso ainda eh mtu estranho, soh a ideia de dirigir sobre ele ja eh assustadora, imagine passar a noite la? Mas graças a Deus, o gelo ficou intacto, e eles tiveram uma boa pescaria. Registrei alguns momentos pra vcs!
Hello Friends, 
Here are some pictures of my little ice-fishing "adventure". My husband's family loves to ice-fish, so they have a nice ice-house to be as comfortable as you can be, while doing it. I was only there for a couple of hours, praying the whole time that the ice wouldn't break. Hahah. Thankfully, it didn't. It was a really cold day outside, -15˚F, but inside the ice-house we were warm and eating cinnamon rolls.