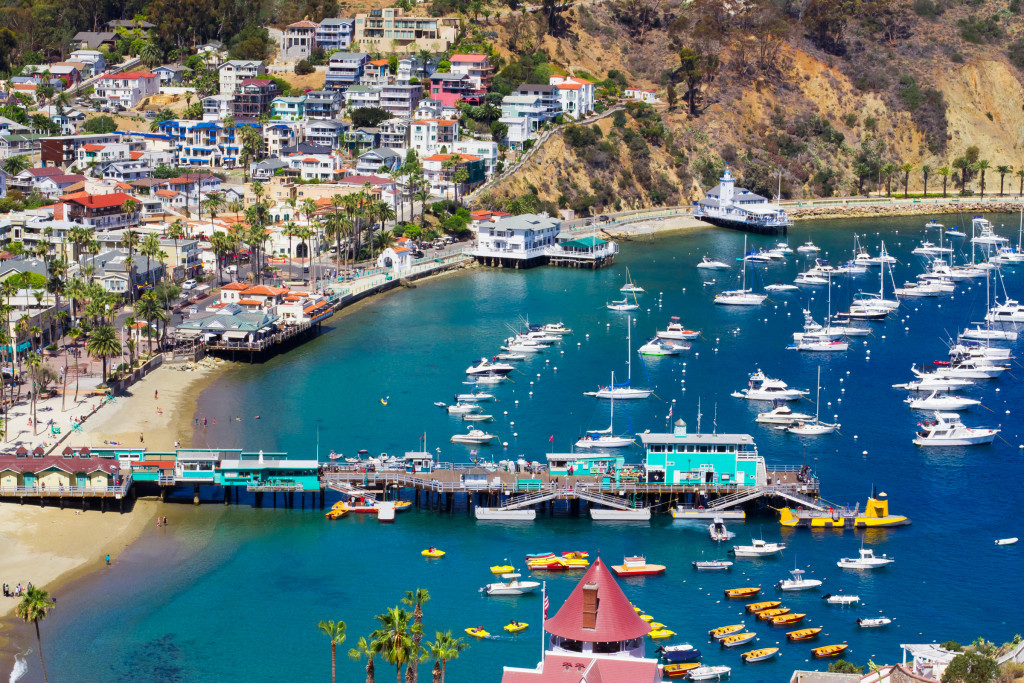 Oi Amigos,
Depois de um "longo e tenebroso inverno" #sqn, estou de volta. Viva!!! Sábado passado foi meu aniversario e nos fomos comemorar o dia na Ilha de Santa Catalina, um lugar MARAVILHOSO, super recomendo.
Catalina Island fica a uma hora de barco de Los Angeles, e eh definitivamente um dos lugares mais lindos que eu ja visitei. Totalmente voltado para o turismo, a ilha eh cheia de atracões, lojas, restaurantes, e claro, praias lindas e de um azul paradisiaco.
Uma das coisas mais legais desse passeio, eh que no dia do seu aniversario vc ganha varios "presentes". Para começar, a viagem de ferry-boat para a ilha, que custa U$70 ida e volta, sai de graça. Vc tbm pode ganhar almoço, sorvete, cafe e muitas outras coisas no dia do seu aniversario. Ou seja, o passeio sai super em conta.
Como tbm era aniversario da minha amiga Hannah, nos curtimos o passeio com esse casal de amigos. Andamos de bicicleta, alugamos um carrinho de golfe, conhecemos os mirantes.. foi um dia cheio. Eu vou ter que fazer mais posts sobre esse dia, pois sao muitas fotos e muitas dicas, espero que vcs gostem. E sim, eu cortei o cabelo. Uma hora eu tbm faco um post sobre isso! Bjs
Hello Friends,
Last Saturday my friend Hannah and I celebrated our birthdays at the Santa Catalina Island, in CA. What a magical place! The birthday island, as I like to call it, is full of perks on your very special day. For starters, the $70 round trip ferry ride is free on your birthday! You can also enjoy lunch, coffee, ice cream and more for free from several different restaurants and businesses.
The island is located about 22 miles south-southwest of Los Angeles, and its a beautiful place. You will want to go to the city of Avalon, a true pinterest town, full of activities, stores, restaurants and of course, breath-taking sights. We had a blast biking around, looking at the sights, and driving our rental golf cart. I will share more details and photos on my next post. Hope you guys enjoy it!