Outfit Details:
Dress: (Shein) Bag (H&M – Similar) Shoes (Vizanno – Similar)
Hello Everyone,
Inspired by the always inspiring Leslie Knope, from Parks & Rec, my friend Naomi Andrews, from the blog My Fair Olinda, and I decided to throw our girls a Galentine's party this year. We have been planning to gather for a while, but with everyone's busy schedules it was always hard to set a date. Finally, when February came around we knew Galentine's day was the perfect time to get together and celebrate our ladies!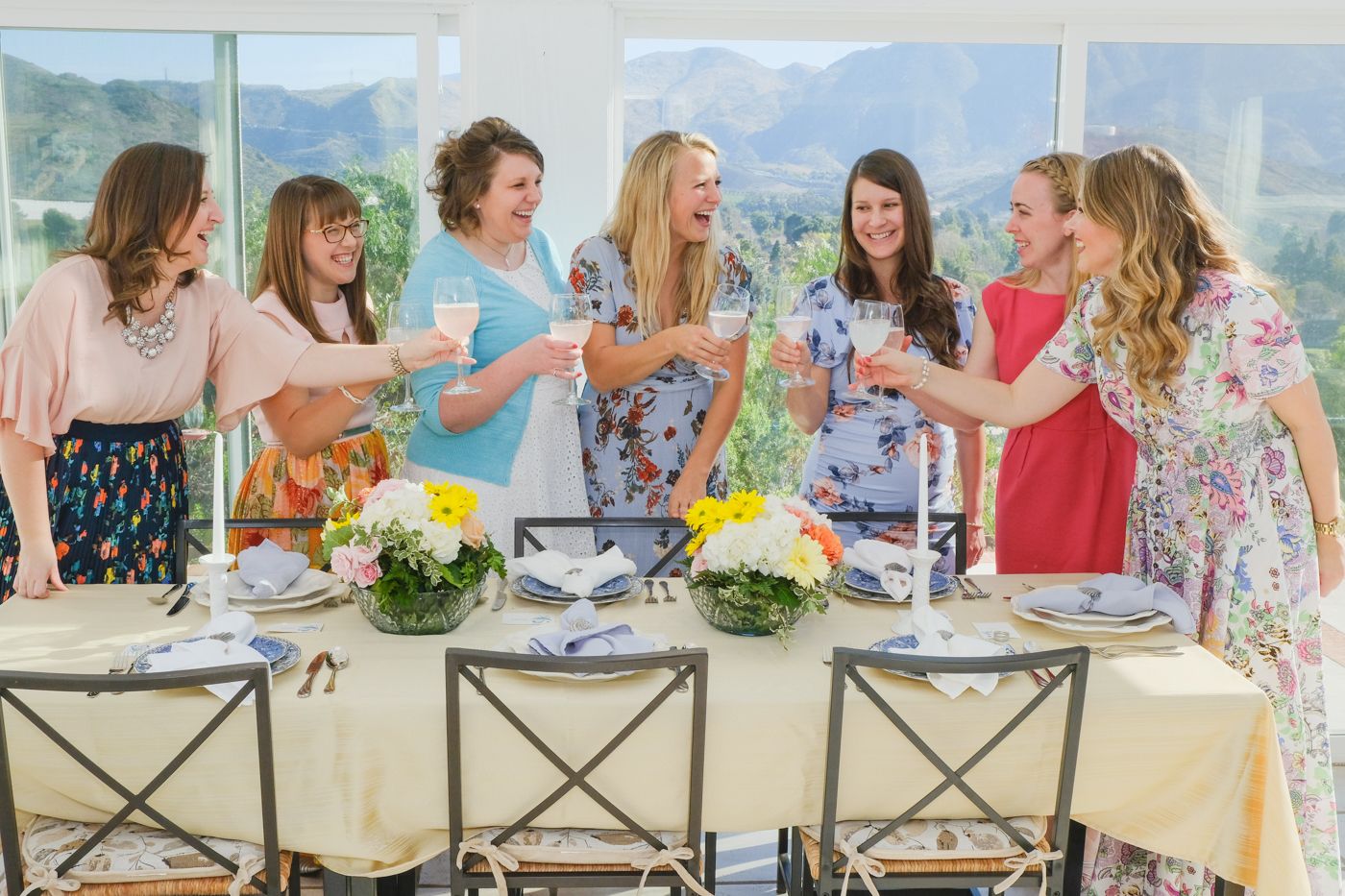 But what is Galentine's Day/Party?
Surprisingly or not, this nonofficial holiday has its roots in the TV show Parks and Recreation. Although the original episode aired in 2010, Galentine's Day has transcended from the television screen into everyday culture. February 13 is the official date to celebrate female friendship, or as Leslie put it, "Ladies celebrating ladies!" I read a great article in The Atlantic that explained it really well: "…Galentine's Day soon became popular among real-life women, too. The festival, after all, filled a need. It found a market. Like Friendsgiving before it, which was similarly coddled in the crucible of the sitcom, Galentine's Day acknowledged a broad truth about American life as it's lived in the early 21st century: Friendships, increasingly, are playing an organizing role in society….friendships, more and more, are helping to define people's sense of themselves in the world. During a time of emergent adulthood and geographic mobility, friendships are lending stability—and meaning—to people's, and especially young people's lives. The deepest friendships are operating not to replace the family unit, certainly, but to complement it."
Our Galentine's party was nothing more than that. Neither Naomi nor I have family in California, so to us, this was a great way to honor our friends, the people we choose to do life with. Our idea was to celebrate the ladies with a beautiful afternoon luncheon, and I think everything came together perfectly.  We all brought some delicious appetizers to share, while some local stores in our area provided us the most amazing desserts, flowers, and goodies for a gift bag!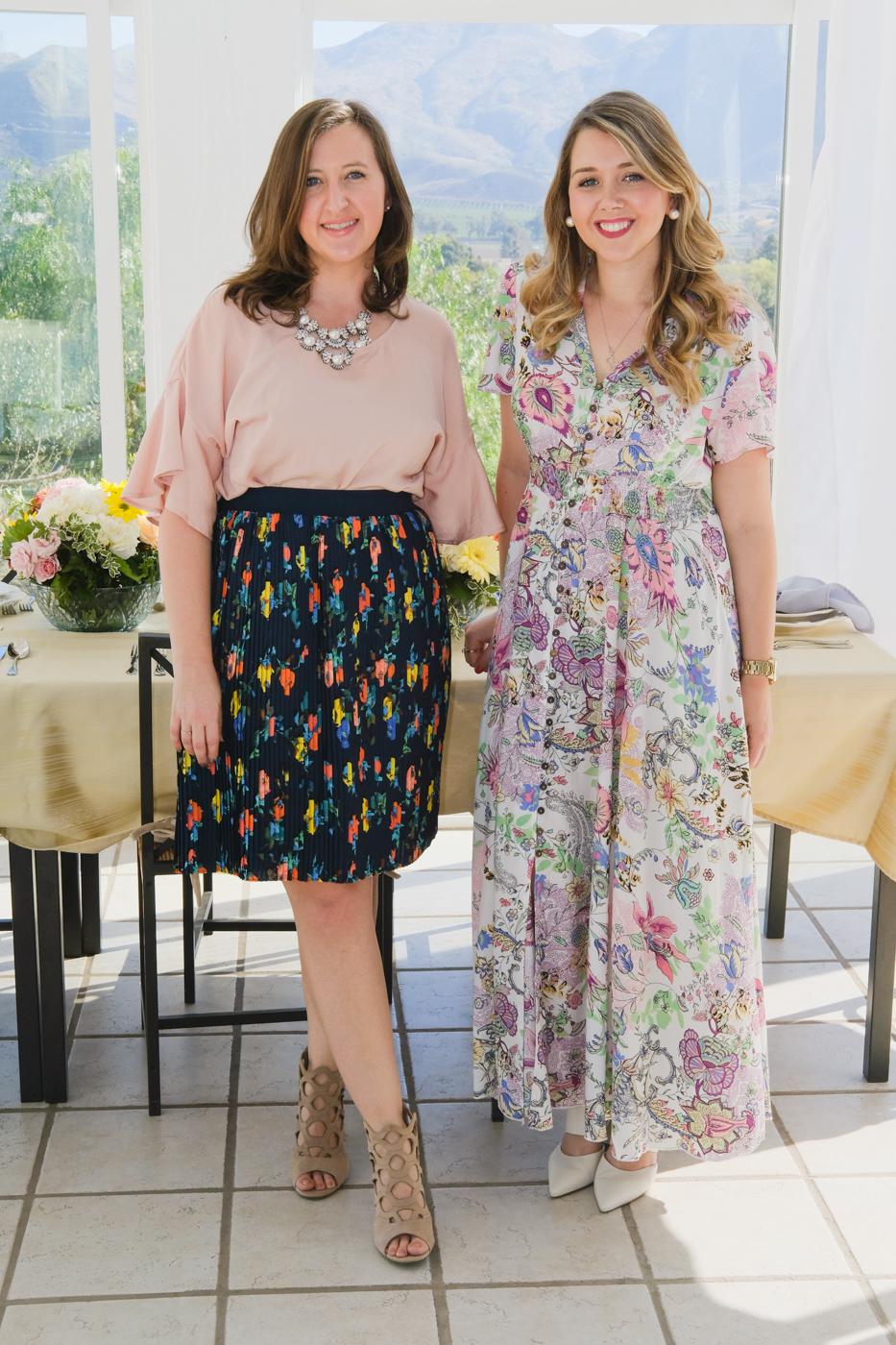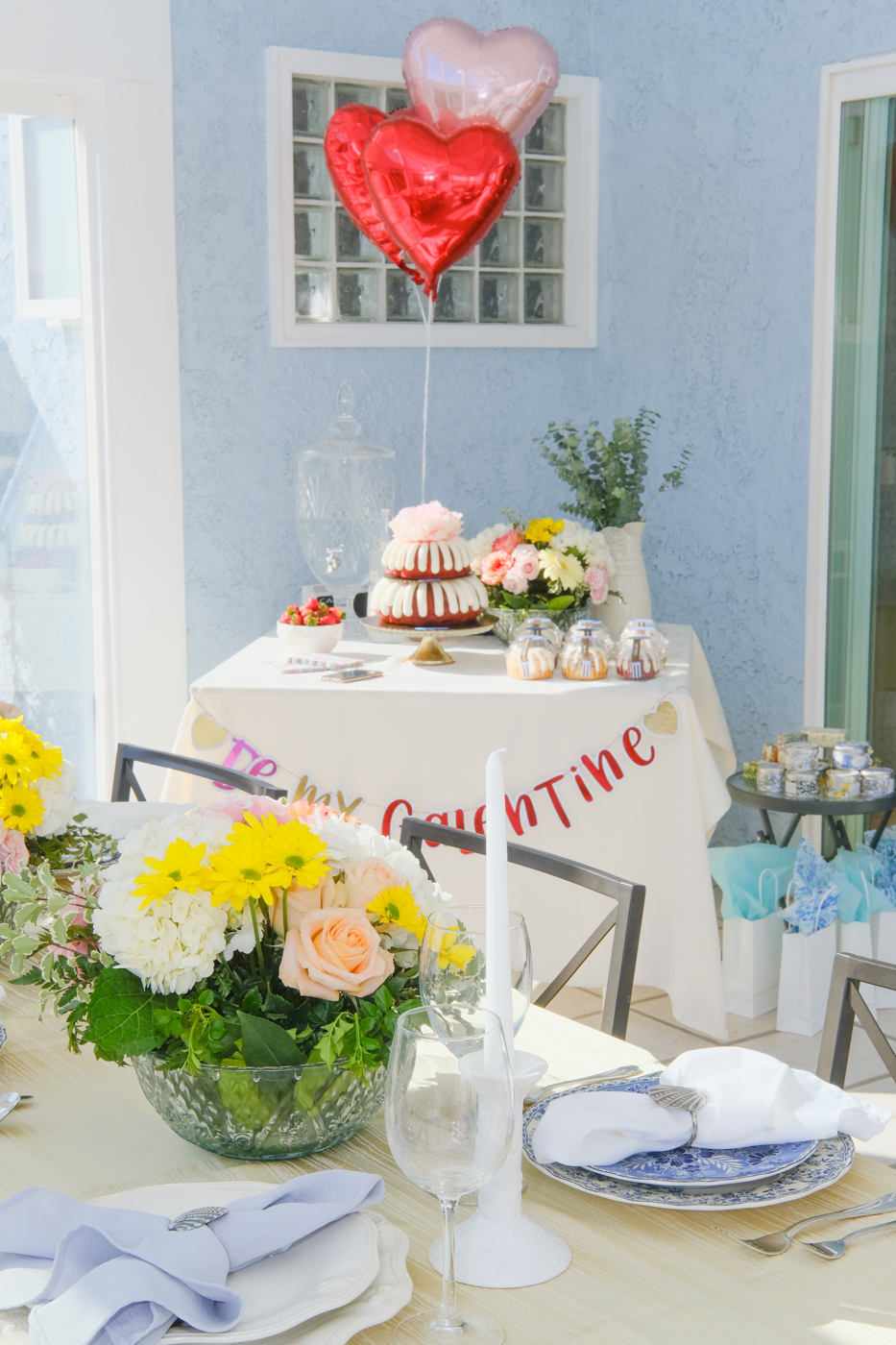 The
Camarillo Flower Shop
put together three beautiful bouquets for our event. Jeannie and her team really captured our vision in creating such colorful and happy bouquets with a variety of flowers. I love the big hydrangeas and the garden roses. The Camarillo Flower shop is located at 77A Daily Dr. in Camarillo, California.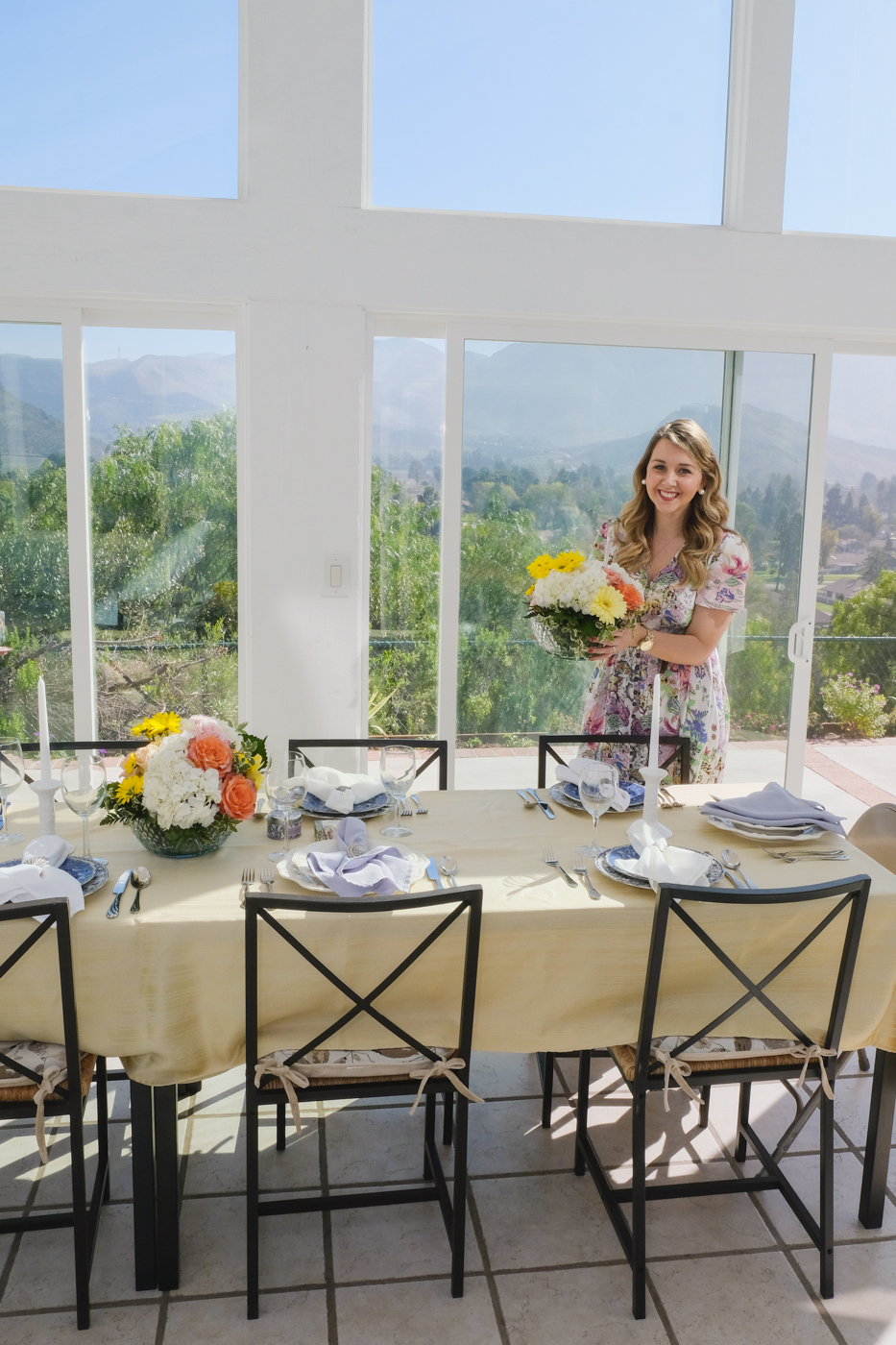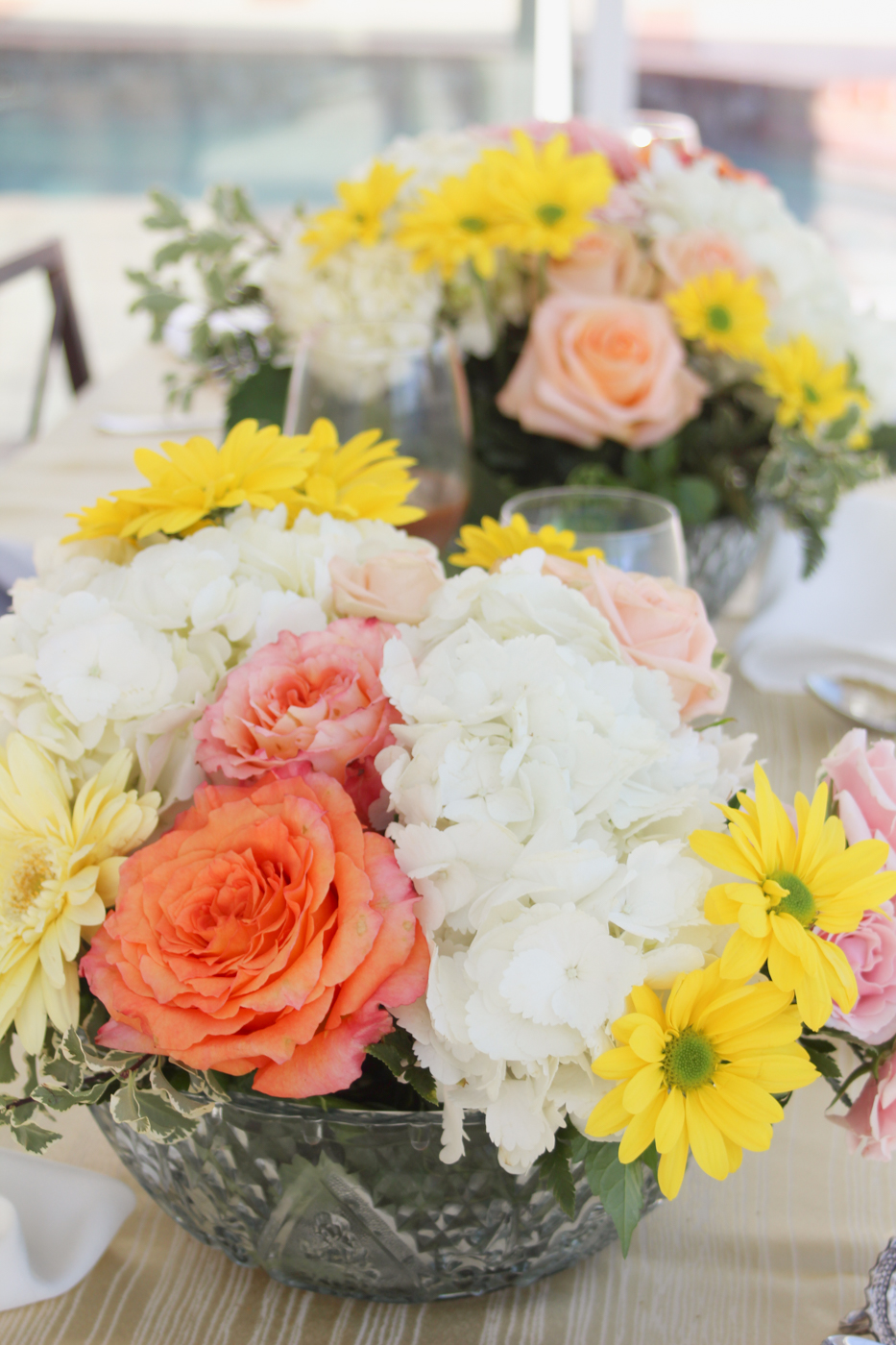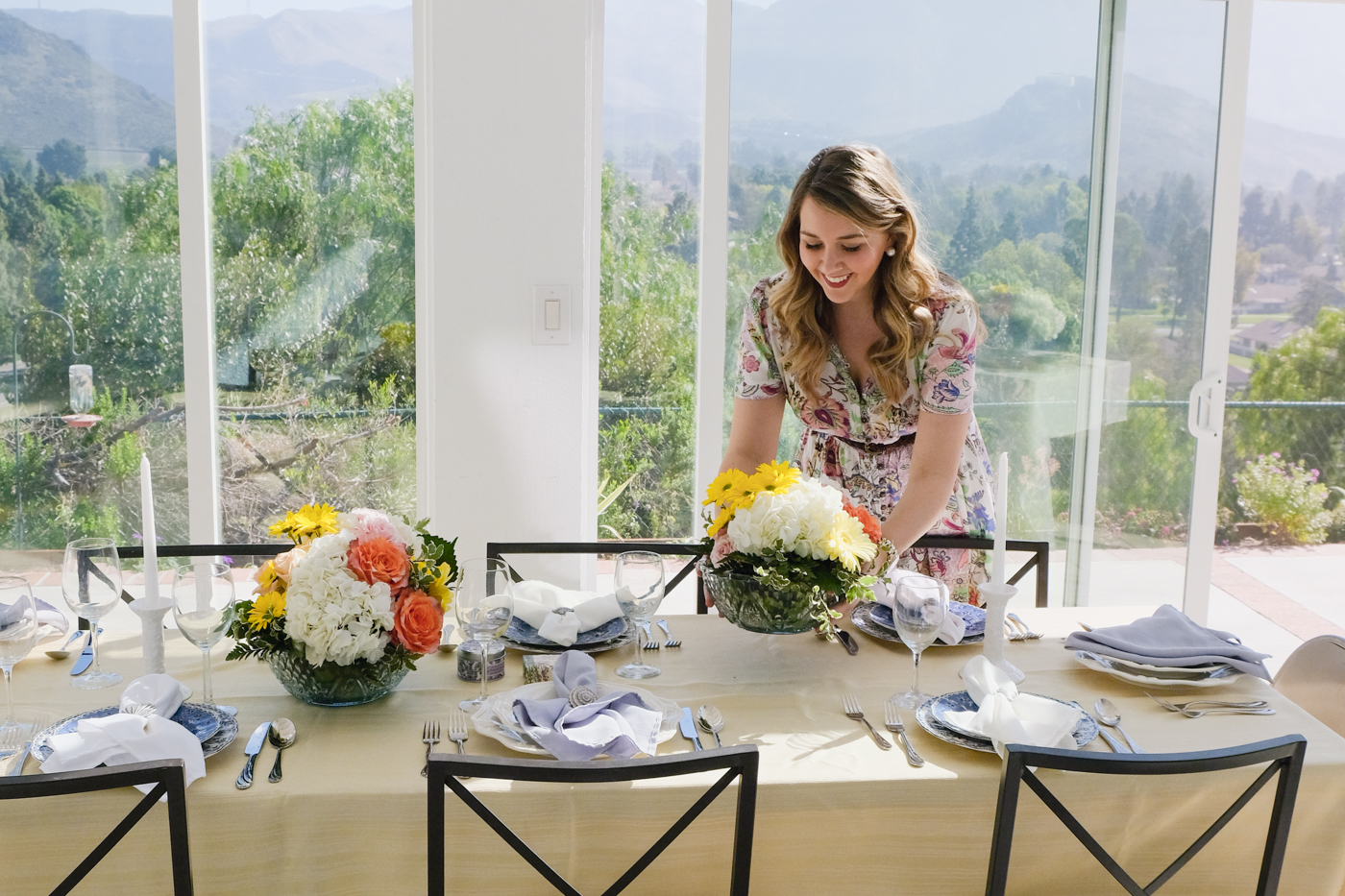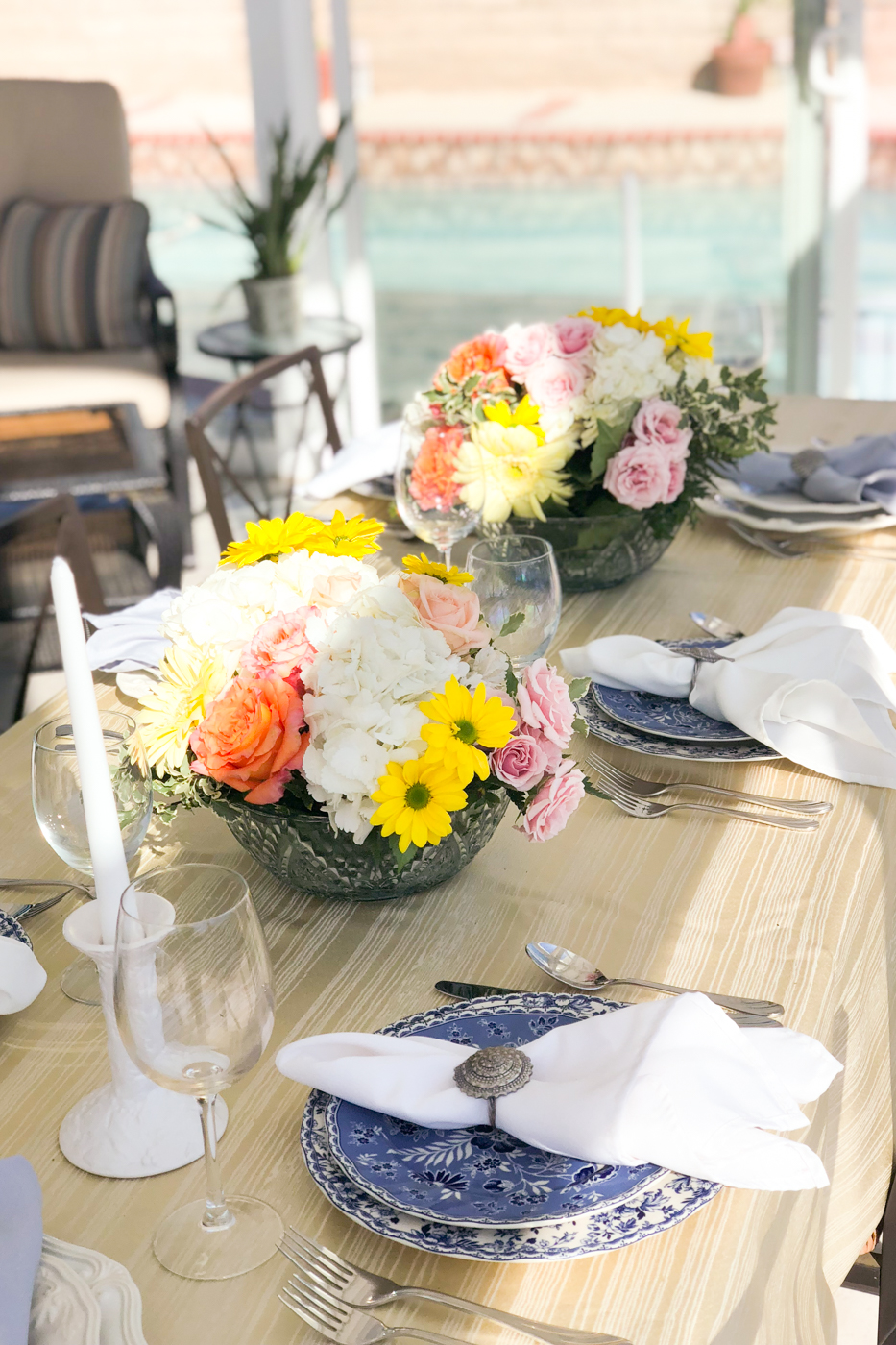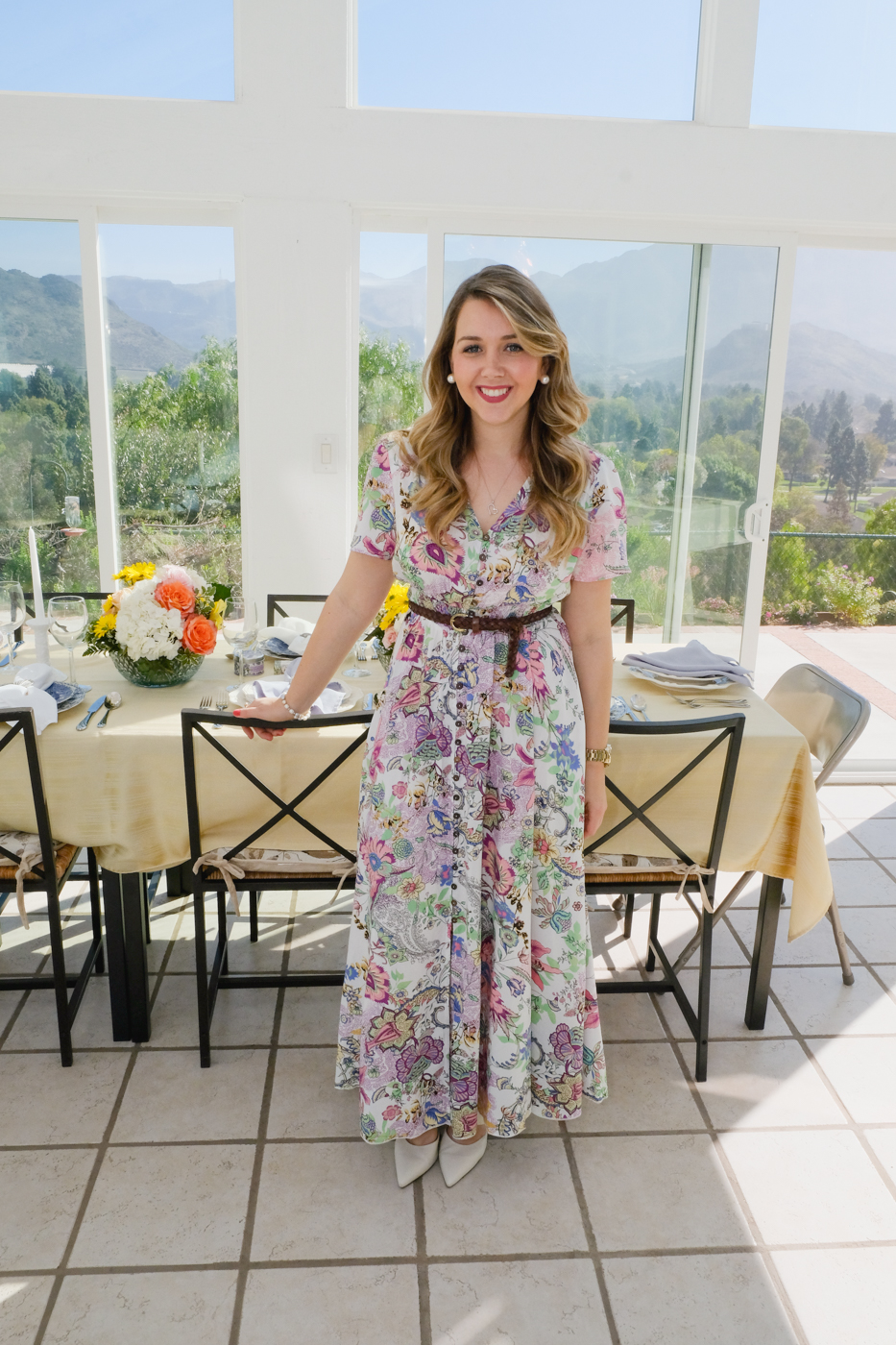 Our dessert came from the bakery
Nothing Bundt Cakes,
that makes the most delicious and moist cakes I have ever had. Each bite melts in your mouth and they always take me back to my mom's delicious homemade cakes from my childhood.
Nothing Bundt Cakes
prides itself on hand-decorating each cake with its signature frosting. Our star centerpiece is a red velvet tiered cake, my all-time favorite! We also served single sized bundlets of assorted flavors,  which some of the girls took home to enjoy later. You can find Nothing Bundt cakes all over the USA, but my two local bakeries are in
Thousand Oaks: 1610 Thousand Oaks Boulevard, Suite D – 
Thousand Oaks
, 
CA
91362 & Ventura: 
1794 S. Victoria Avenue, Suite A – 
Ventura
, 
CA
93003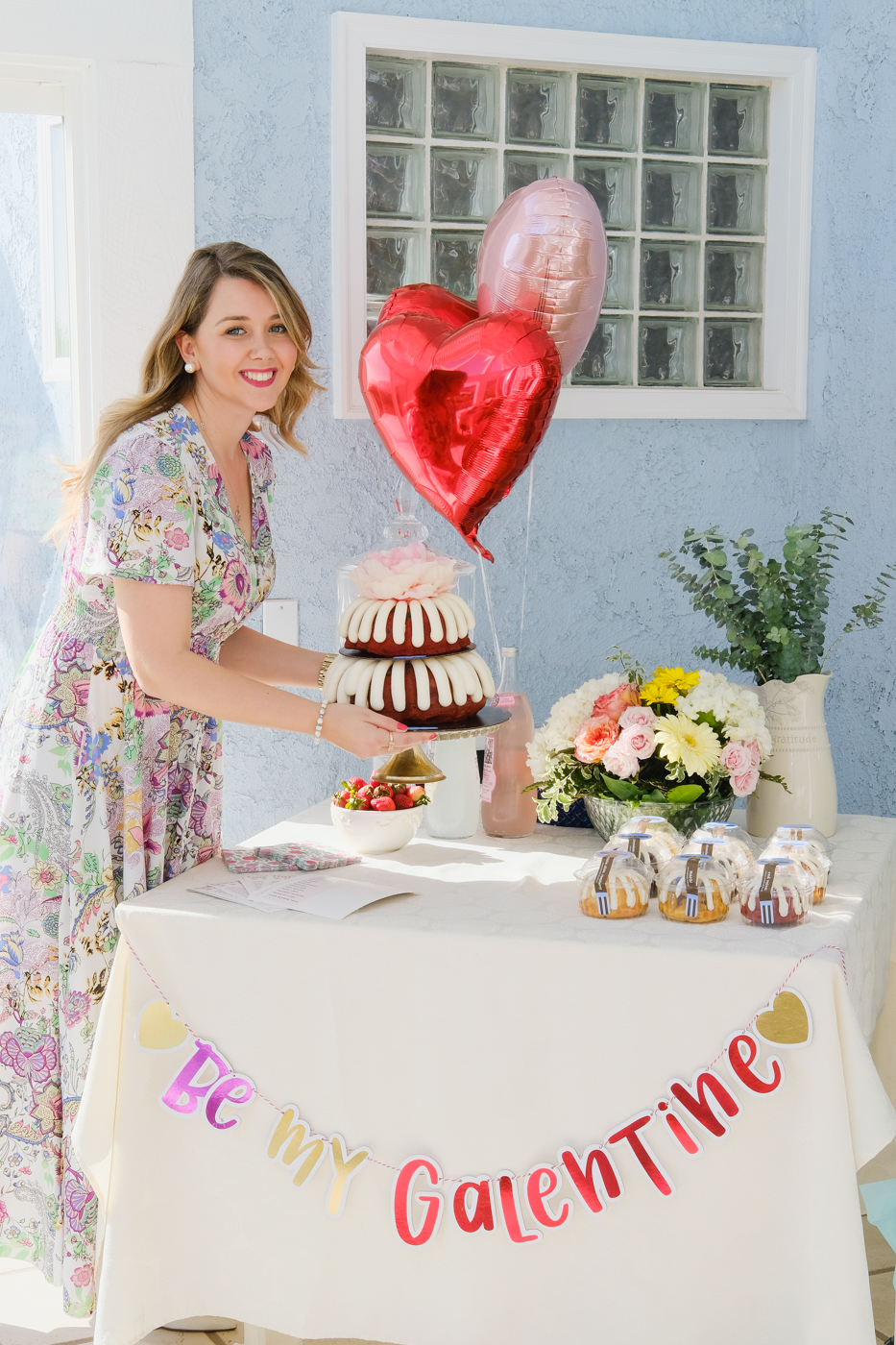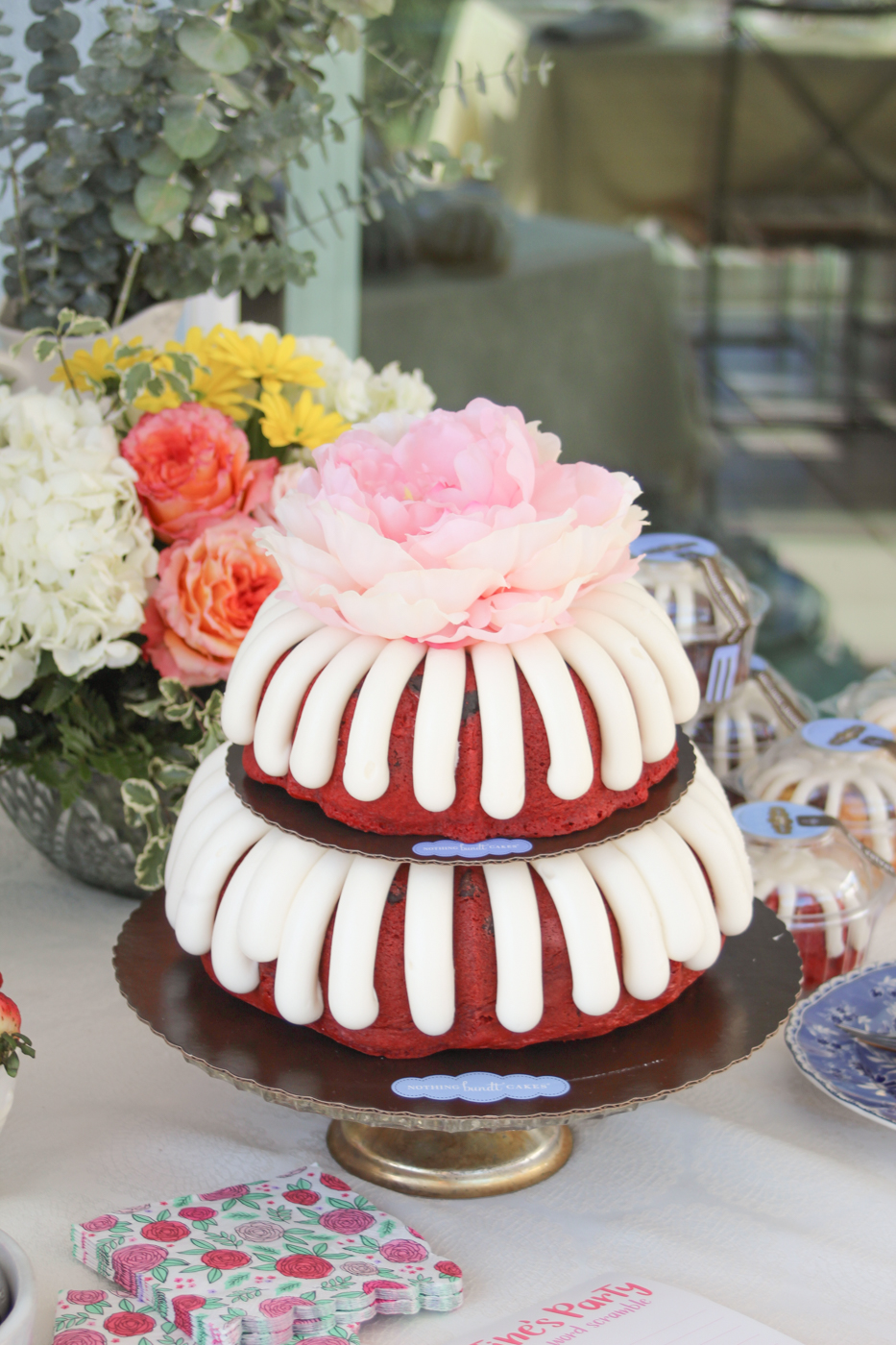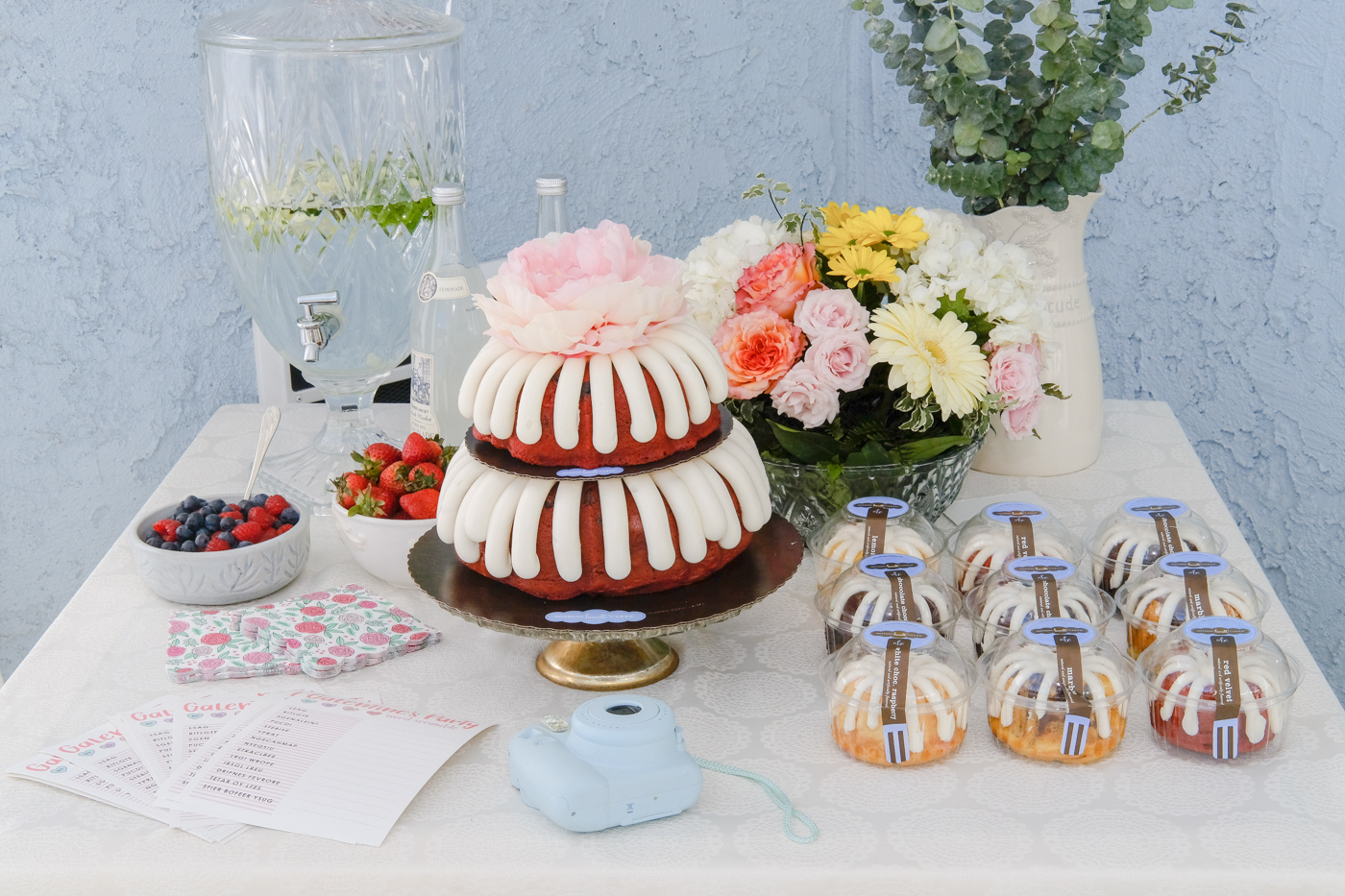 For the party, I chose to wear this new maxi dress I got from Shein. Lately, I found myself always gravitating towards maxi dresses, preferably with sleeves. There is something so elegant about them, don't you agree? This dress I'm wearing is the perfect casual/chic option for a sunny day. I love the happy flower print and the flared skirt! This style makes me feel slimmer and feminine! I paired the dress with an old envelope clutch from H&M and a pair of white mules I got in Brazil. This is my current favorite pair of shoes! If you follow me on Instagram you probably noticed I wear them all the time! But they are gorgeous and extremely comfortable! Brazil is my favorite place to buy shoes! I've found a couple of similar styles available in the US and I linked them to you girls in SHOP MY POST at end of this post.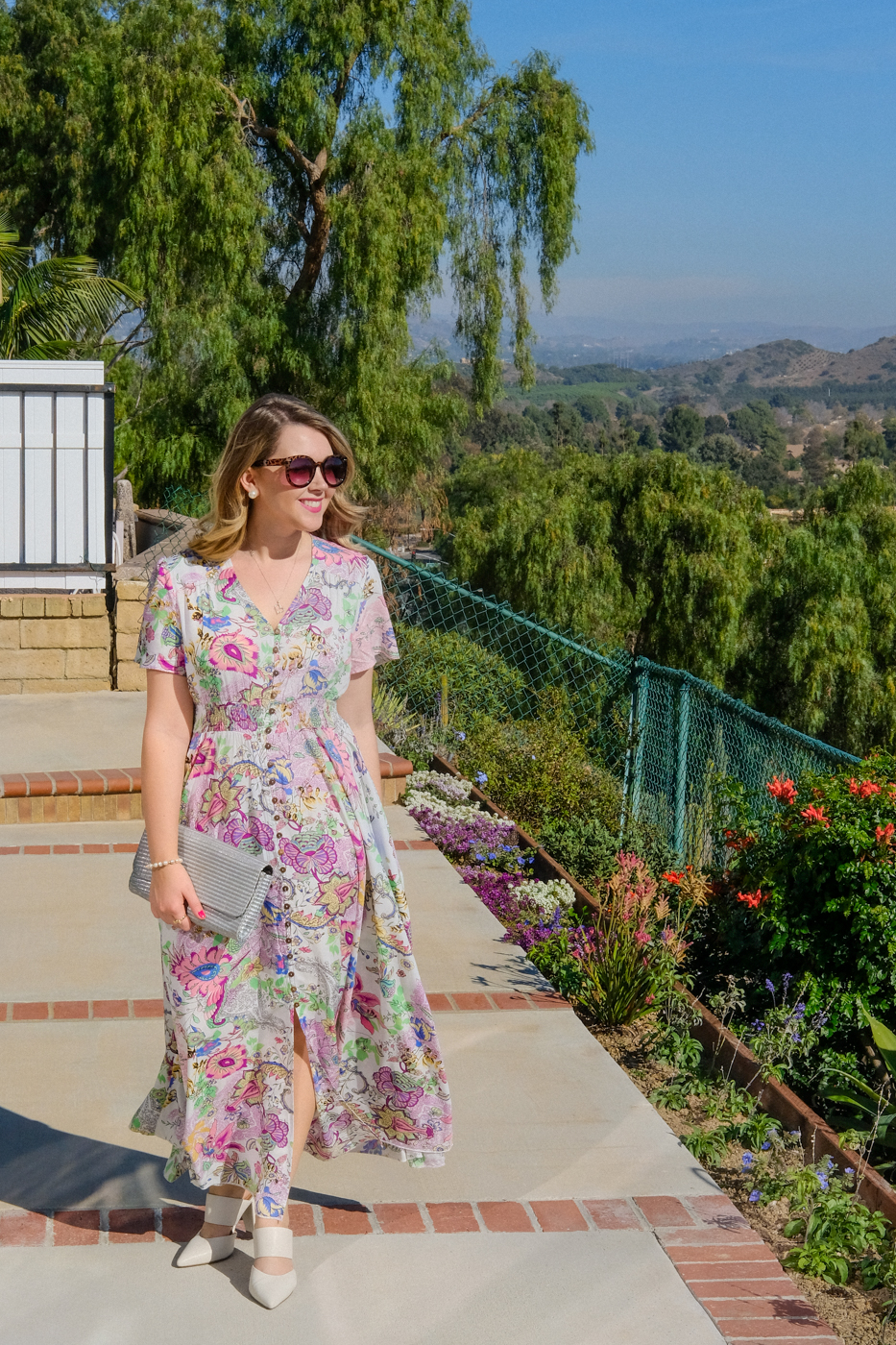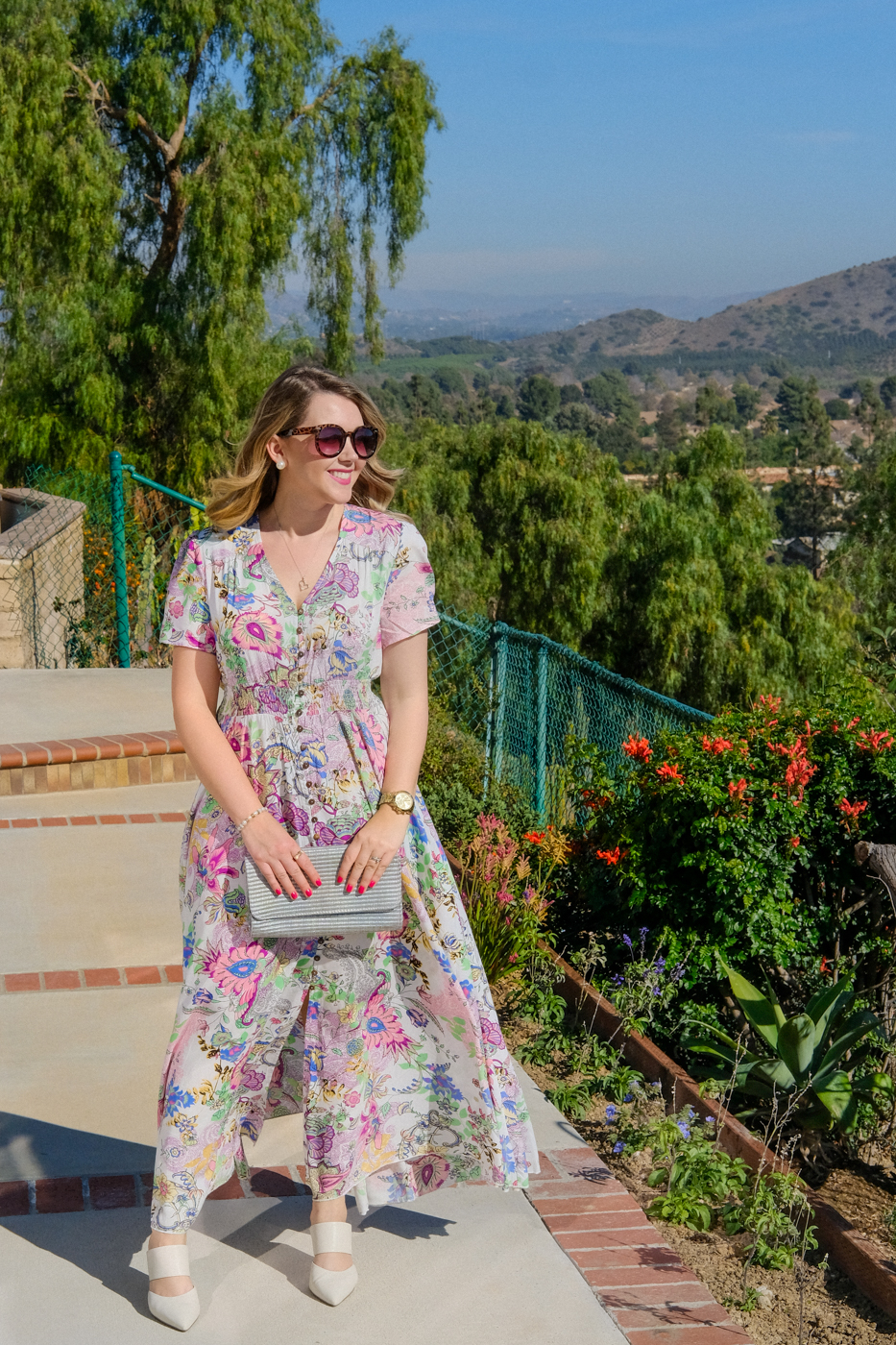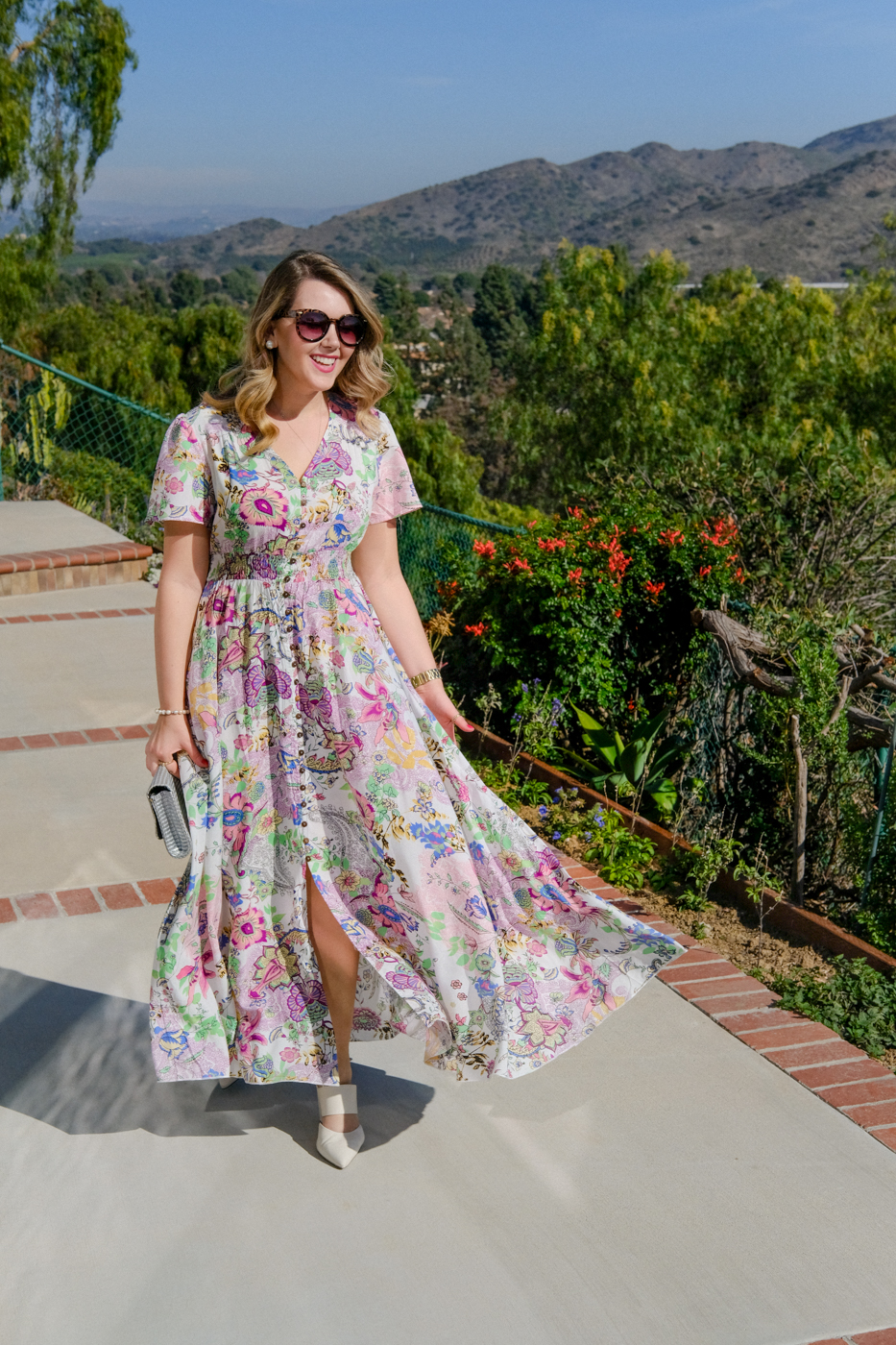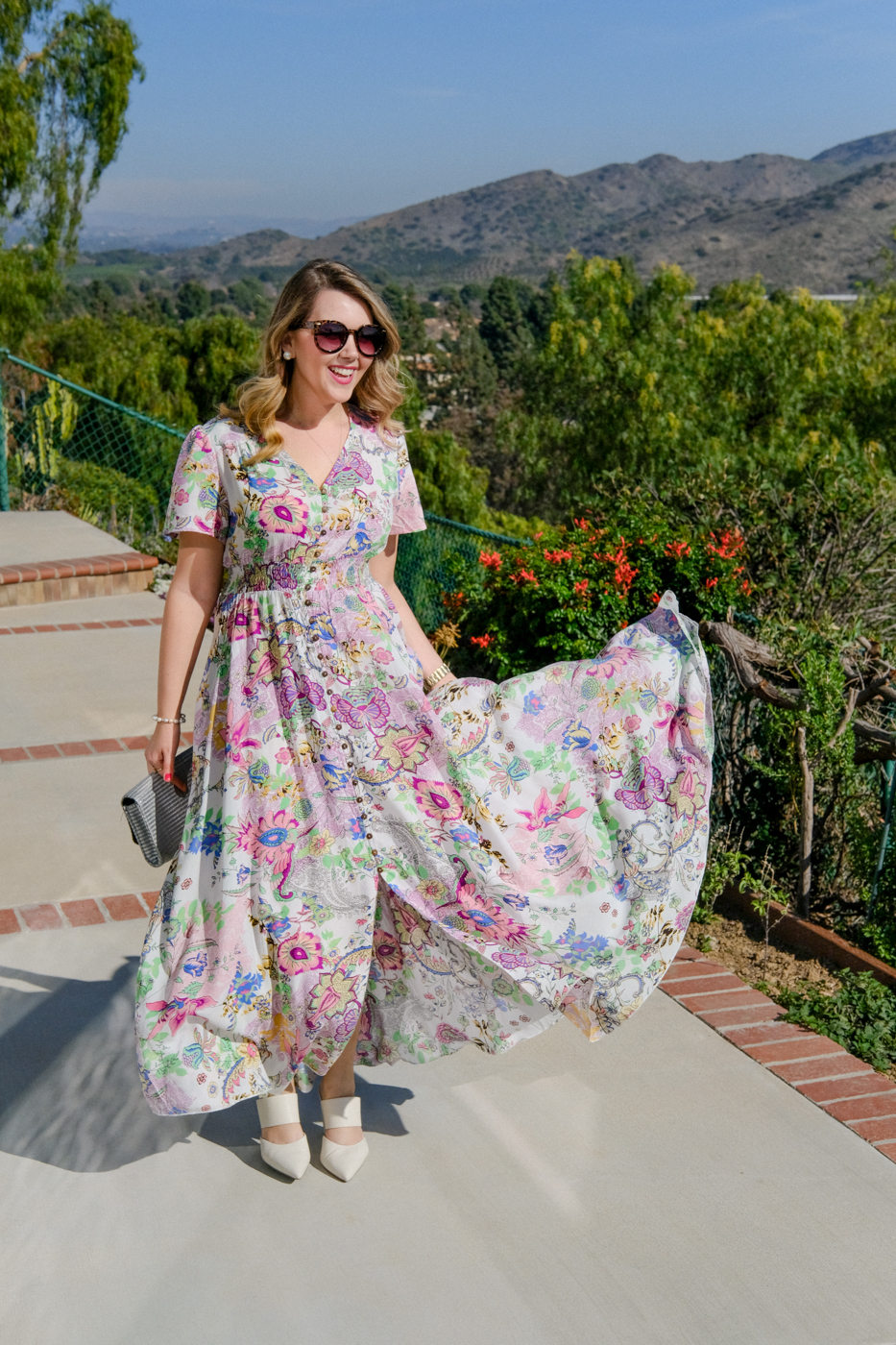 A Galentine's party goal is to celebrate friendship, regardless of what that celebration looks like. Some people, like Leslie Knope, like to go out for brunch. Other girls might prefer a pizza night, which is great! The beautiful thing about women's friendship is that they are just as unique as women are. Only you and your girls know the best way to celebrate. In our case, Naomi is a great hostess, and I love any excuse to dress up, so this is how we threw our party!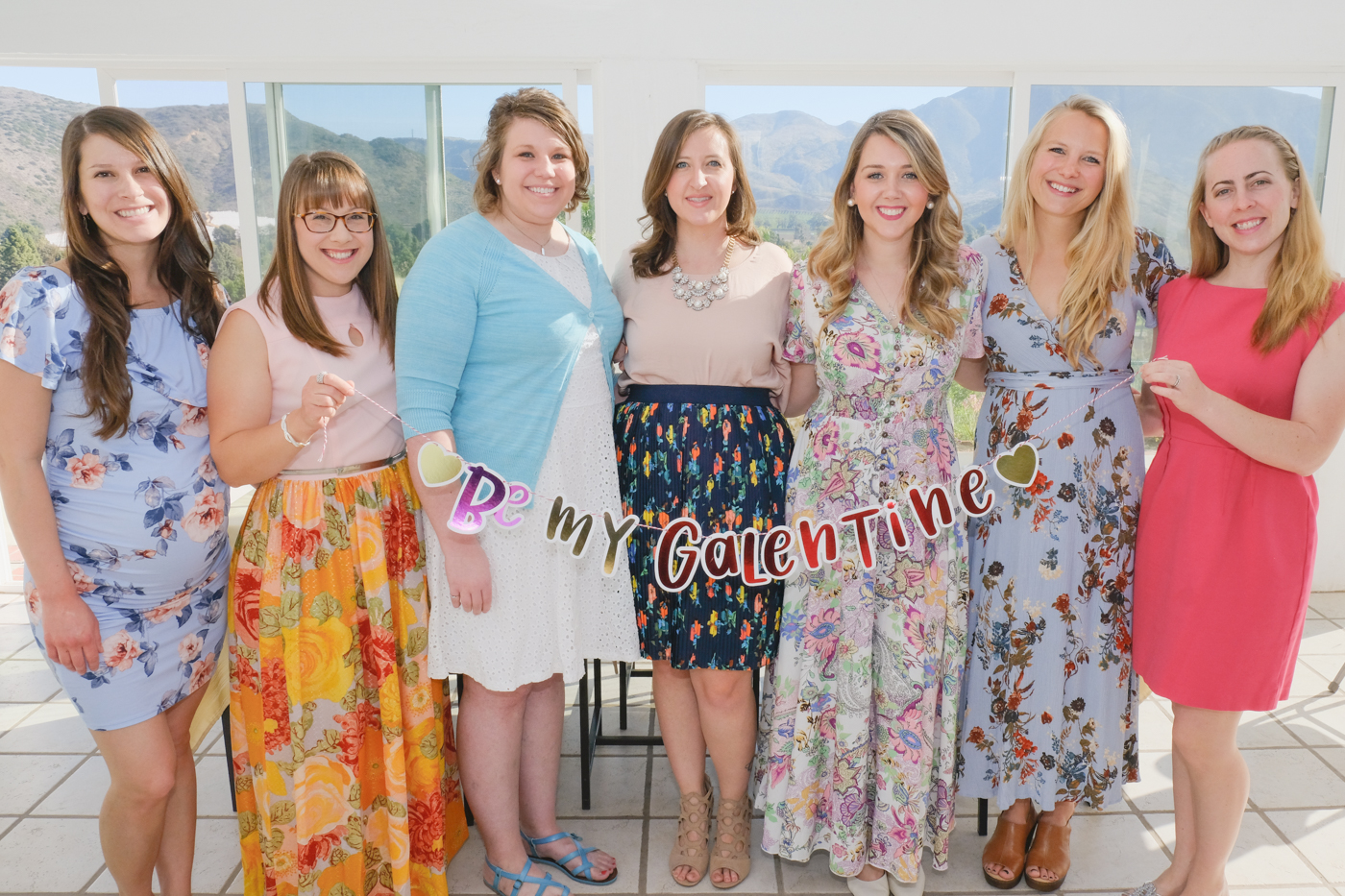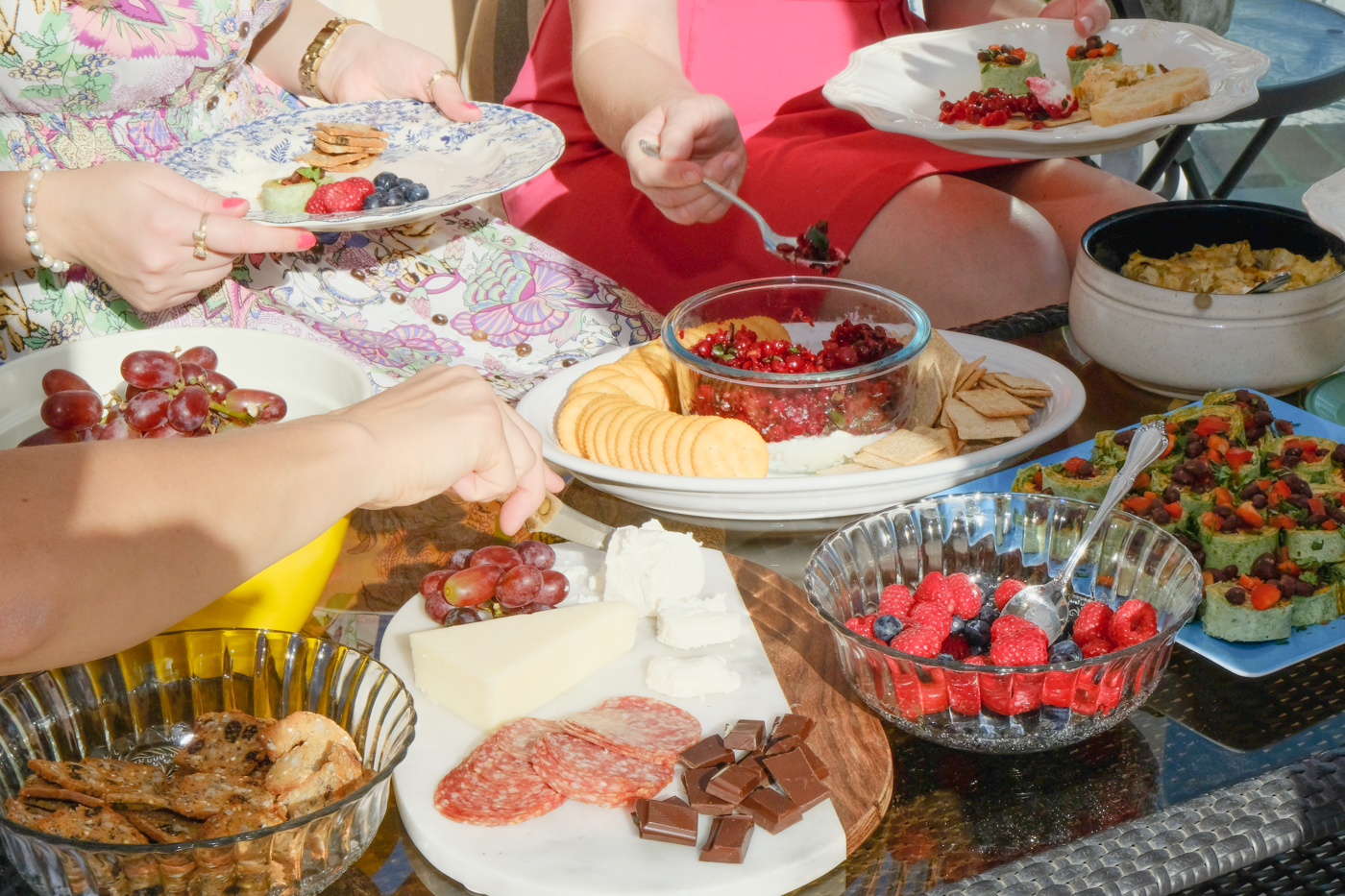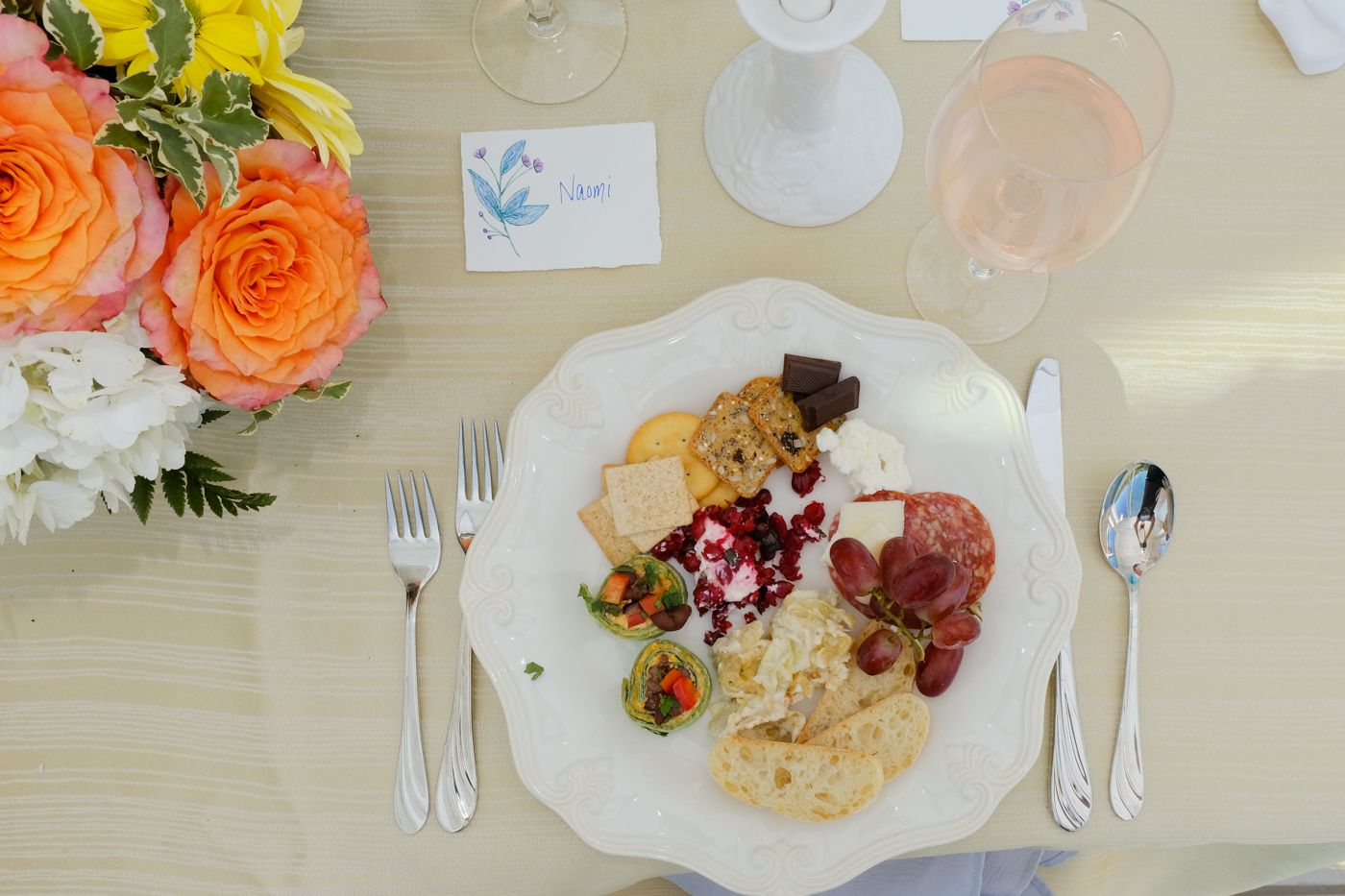 At the end of the day, we sent each girl home with gifts from the Las Posas Emporium, an elegant shop in Camarillo, where you can find everything you need! From clothing to decorations, from books to postal services. The Las Posas Emporium gifted us with these luxurious candles and bar soaps with the most wonderful scents! The Las Posas Emporium is located at 528 Las Posas Rd, Camarillo, California.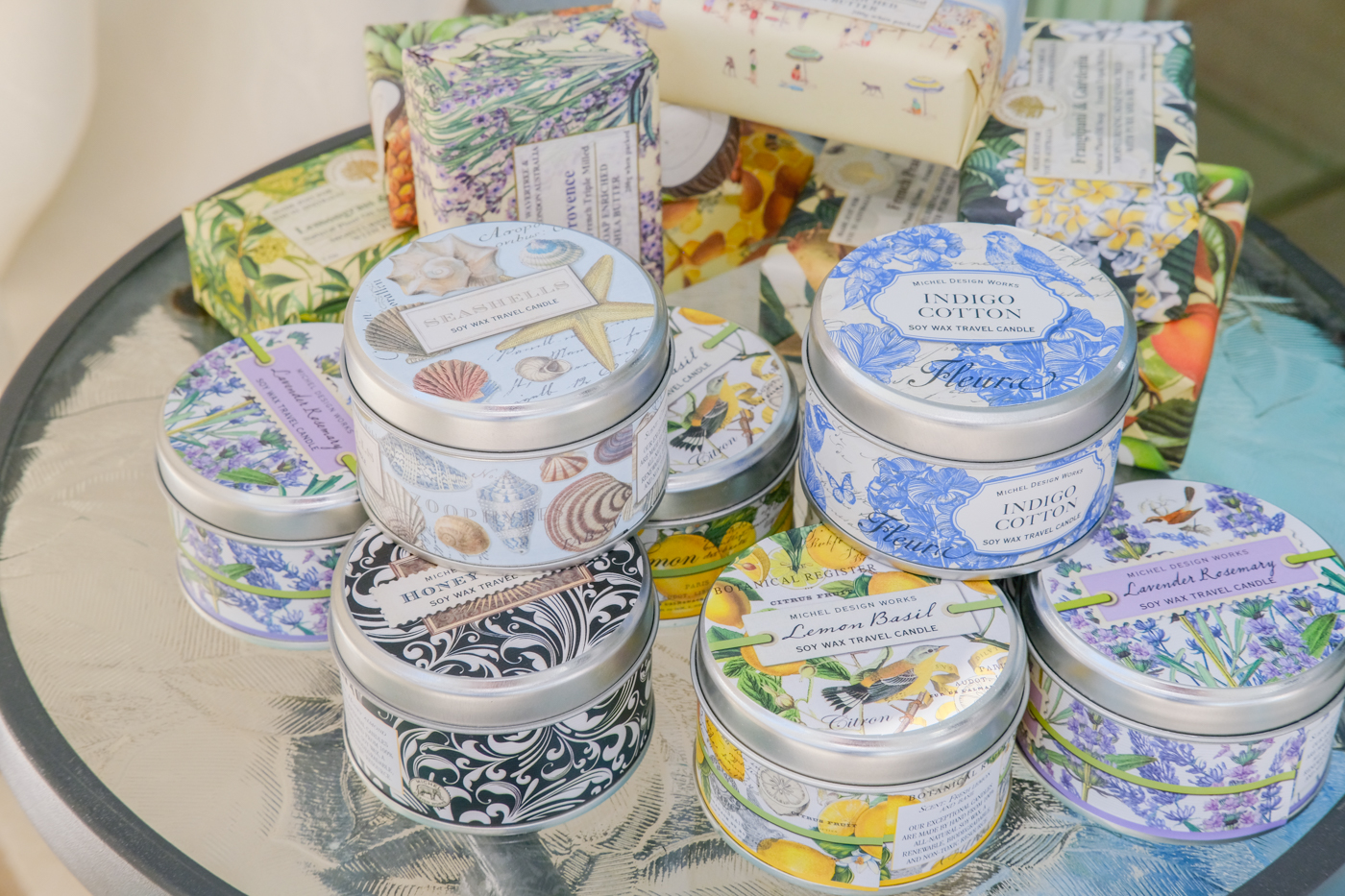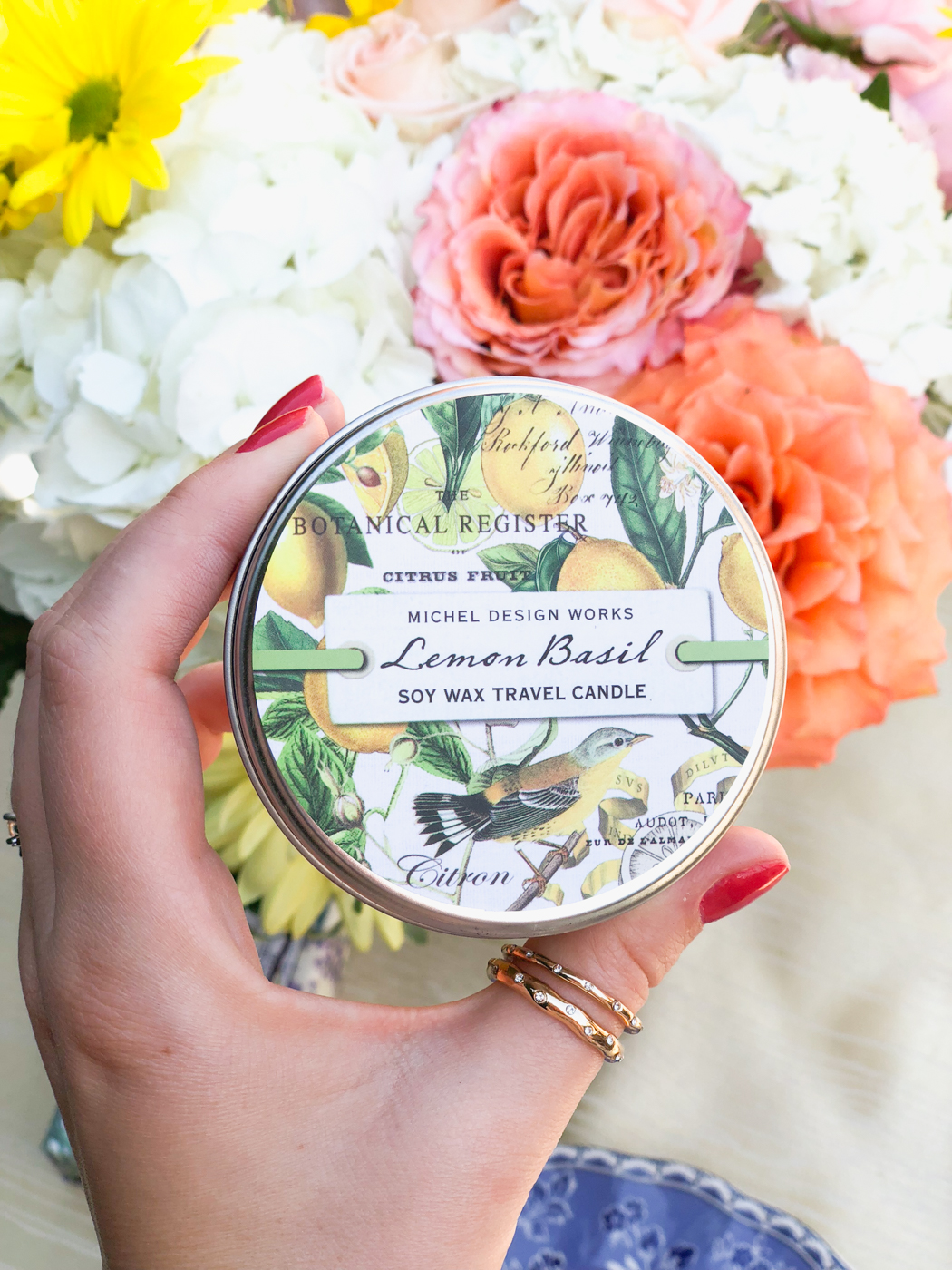 This Valentine's season, I would like to encourage you to support the local business in your community. We could not have thrown such a beautiful party without them. Thank you
Nothing Bundt cakes Ventura,
Camarillo Flower Shop, 
 and 
Las Posas Emporium
for sponsoring, sweetening and embellishing our days! Thank you Jeanne, for letting us use your beautiful home!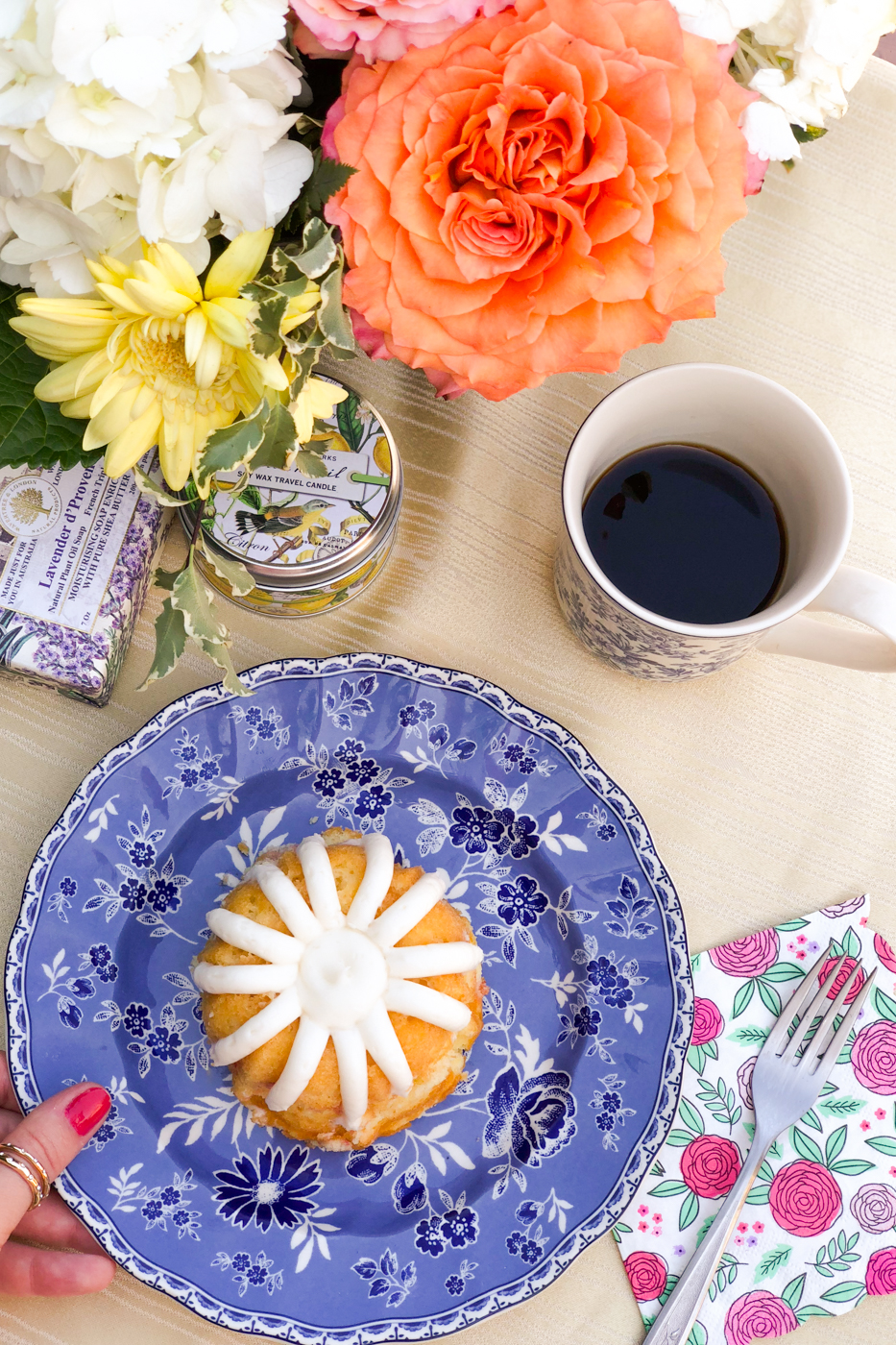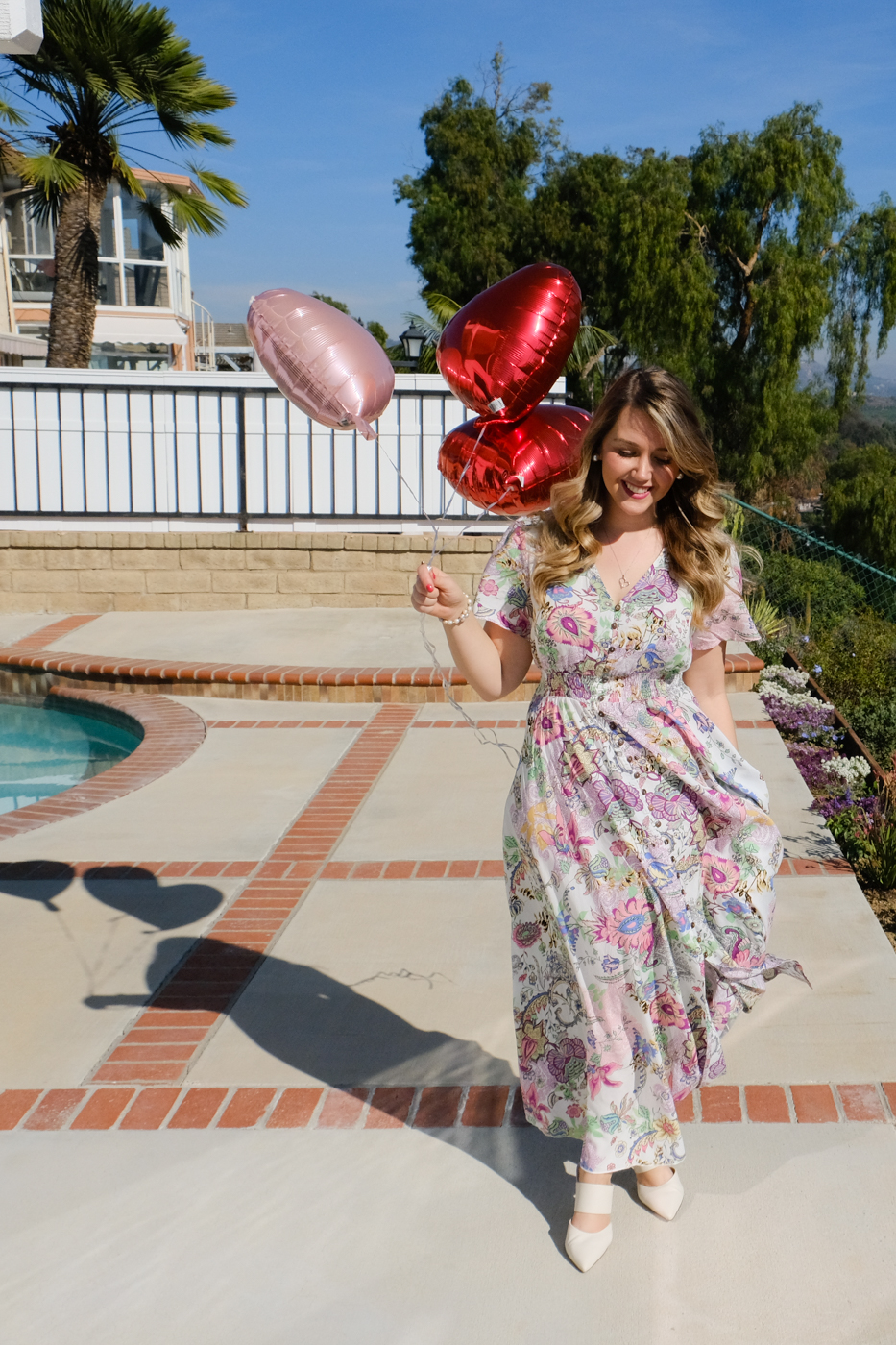 Happy Galentine's Girls!
See you next time!
Love,
---
SHOP THE POST

---