Hello Everyone,
I love skincare products! I am a firm believer of natural looks, so the better my skin looks, the less makeup I need! Especially now that I turned 30, I want to make sure I am taking care of my skin the best way possible. Being a blogger I have the wonderful opportunity of testing and reviewing several different brands. Recently I tested the new Kx ACTIVE CONCENTRATES – Bio-Mimicking Peptides Serum,  LIQUID EXFOLIKATE & +Retinol Vitamin C Moisturizer from Kate Somerville. (#Katesomervillegiftedme)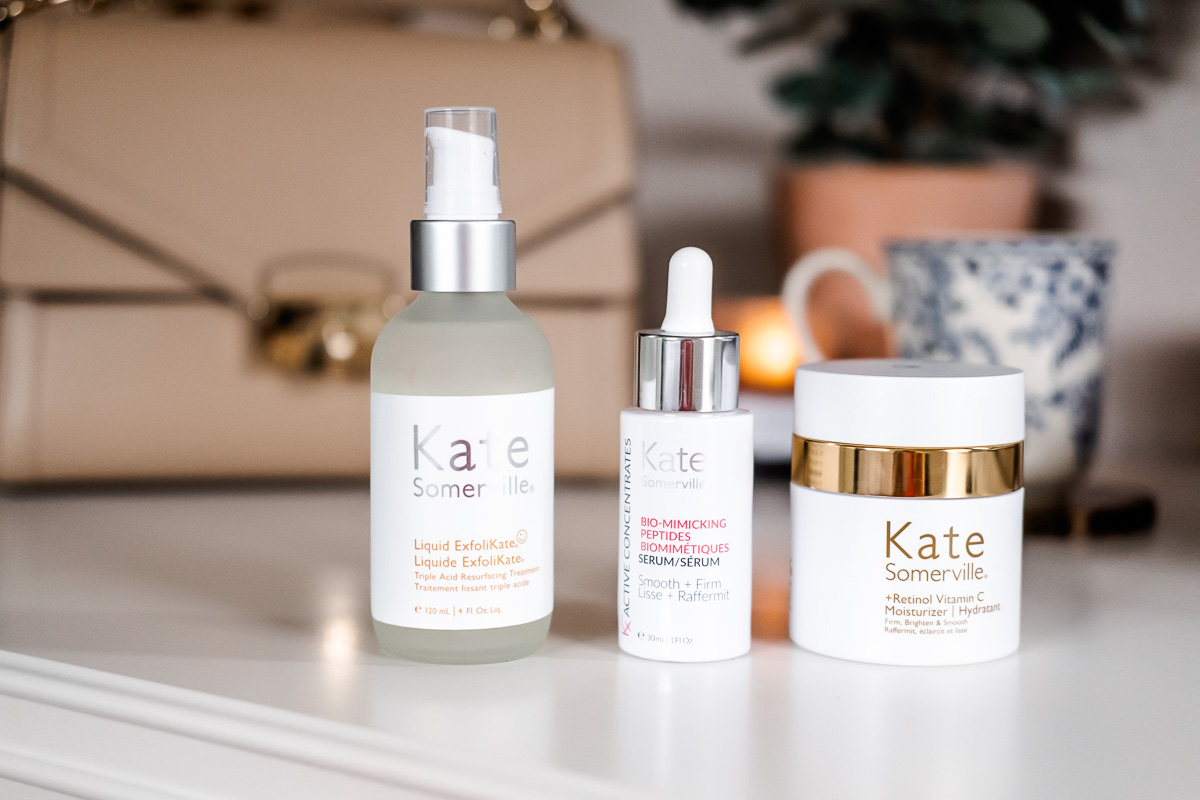 Here are some facts about the products straight from Kate Sommerville's website:
Kx Active Concentrates- Bio-Mimicking Peptides Serum
WHAT IT IS
A highly active concentrate to transform dull, sagging skin into visibly firmer, smoother, refreshed-looking skin.
KEY INGREDIENTS + BENEFITS
A complex of 5 peptides that are bio-identical, synthetic growth factors and visibly improve skin elasticity, rejuvenation and moisturization while reducing wrinkles and fine lines.
Chicory Leaf Extract: Acts as a natural alternative to retinol and helps to reduce the appearance of fine lines and wrinkles, pores and skin roughness.
Mango and Banana Pulp Extracts: Improve radiance and luminosity while helping to smooth the appearance of wrinkles.
HOW TO USE
AM and PM – After gentle cleansing, apply to face and neck, including the eye area and decollate.
Can be used alone or layered with your normal skincare routine.
Apply product in the order of lightest to heaviest.
Can be used as a spot treatment for stubborn areas.
Apply sparingly – excess product can cause tackiness on the skin.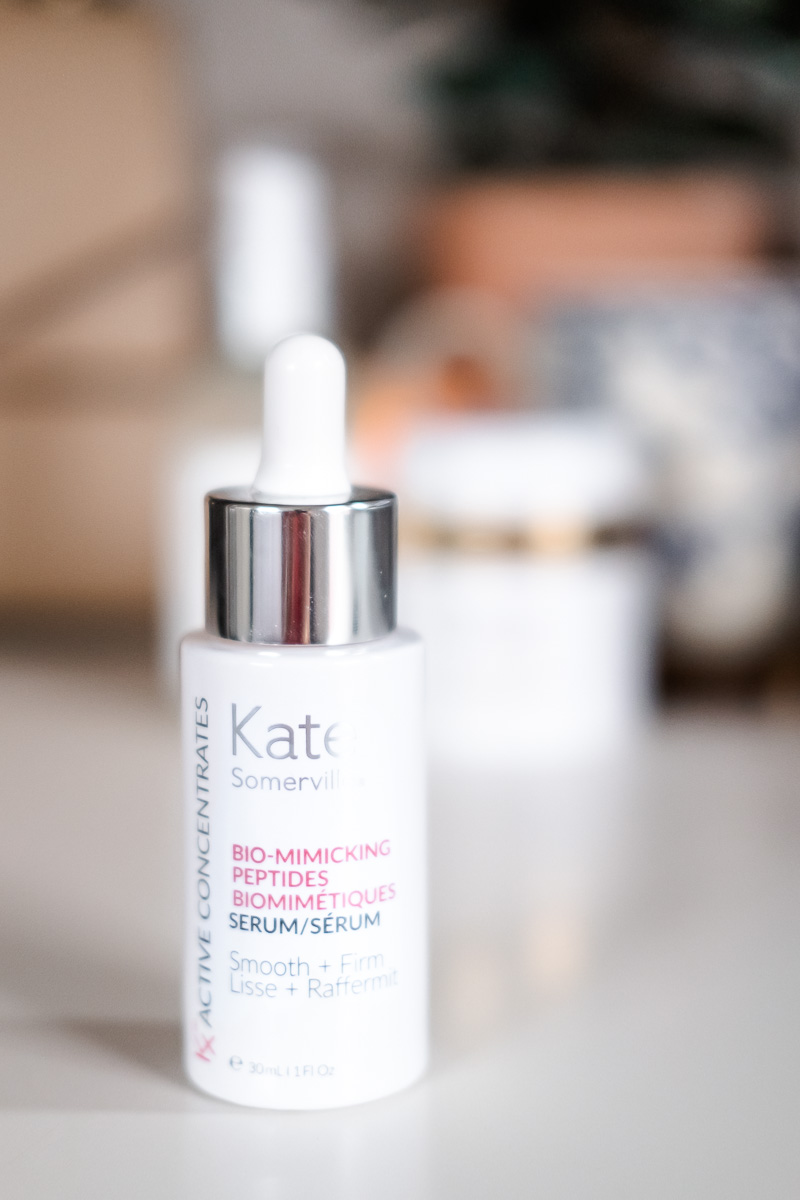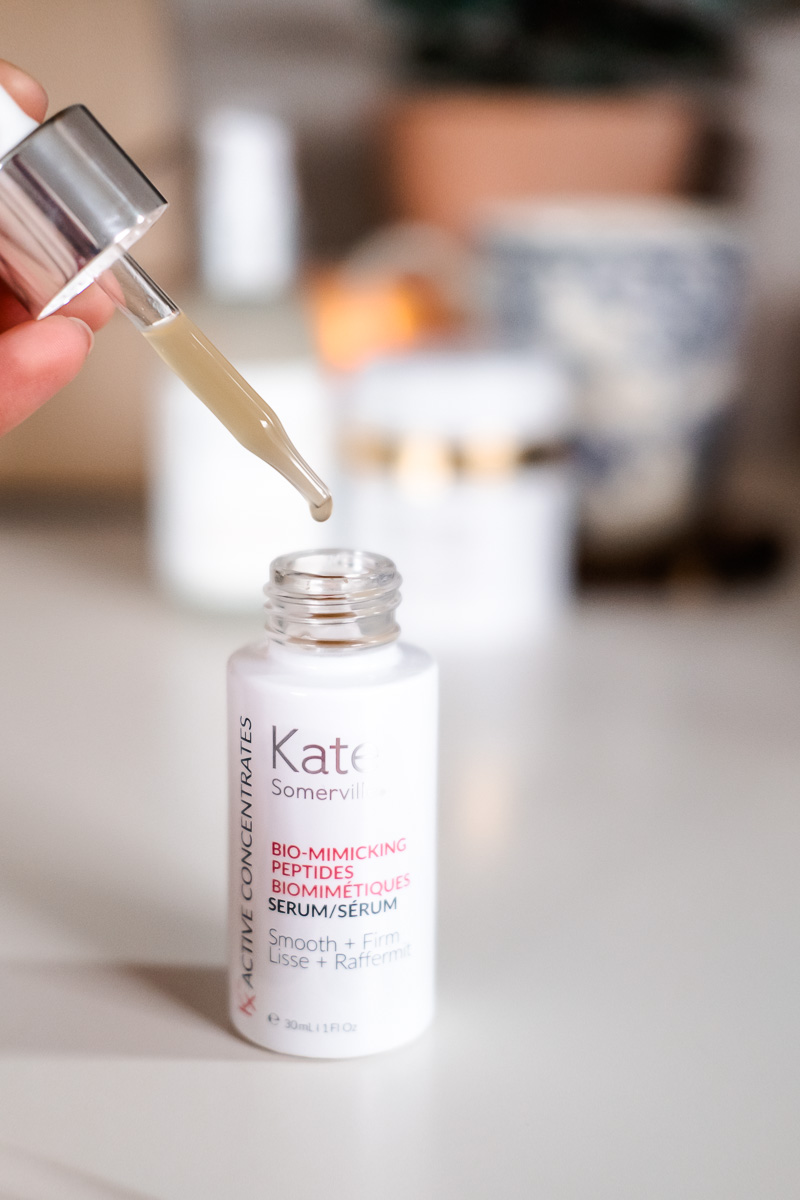 Liquid ExfoliKate
WHAT IS
A 10% AHA and fruit enzyme-powered nightly leave-on exfoliating solution that gently sloughs away surface dullness and refines the look of pores for smoother, softer, more glowing skin.
KEY INGREDIENTS + BENEFITS
10% Triple Acid Blend (Glycolic, Malic and Lactic Acids): Exfoliate dead skin cells, smooth away surface dullness, and hydrate for a brighter, more even-looking complexion.
Phytic Acid with Pumpkin, Papaya, and Pineapple Enzymes: Help enhance skin exfoliation for more glowing skin.
Peptides, Honey, and Tea Extract: Help soothe and offset irritation.
HOW TO USE
Apply nightly after cleansing. Saturate a cotton round, then pat onto face, décolleté, and tops of hands, avoiding the eye area. Allow Liquid ExfoliKate® to absorb, then follow with your favorite moisturizer.
+Retinol Vitamin C Moisturizer
WHAT IS
Uniquely-formulated with anti-aging superstars Retinol and Vitamin C, this 3-in-1 rich moisturizing cream firms, brightens and nourishes skin to visibly improve texture, tone, and the look of fine lines and wrinkles.
KEY INGREDIENTS + BENEFITS
Retinol: Helps diminish the appearance of lines and wrinkles while improving skin firmness.
L-Ascorbic acid (100% Vitamin C): Wrapped in volcanic soil from Jeju Island in South Korea, which helps to keep it stabilized without needing to be stored in a refrigerator, this unique formulation reduces the appearance of lines and wrinkles and helps brighten and even skin tone.
Hyaluronic Acid: Deeply hydrates skin, instantly smoothing fine lines and wrinkles.
Wild Gooseberry Extract: Defends skin against free radicals that can cause premature aging. Also has a soothing effect to help protect from any potential sensitivity to Retinol or Vitamin C.
HOW TO USE
PM Only. Use once a day. Apply a thin, even layer to face and neck. Reduce the frequency of use if sensitivity occurs. While using this product, also use a daily sunscreen.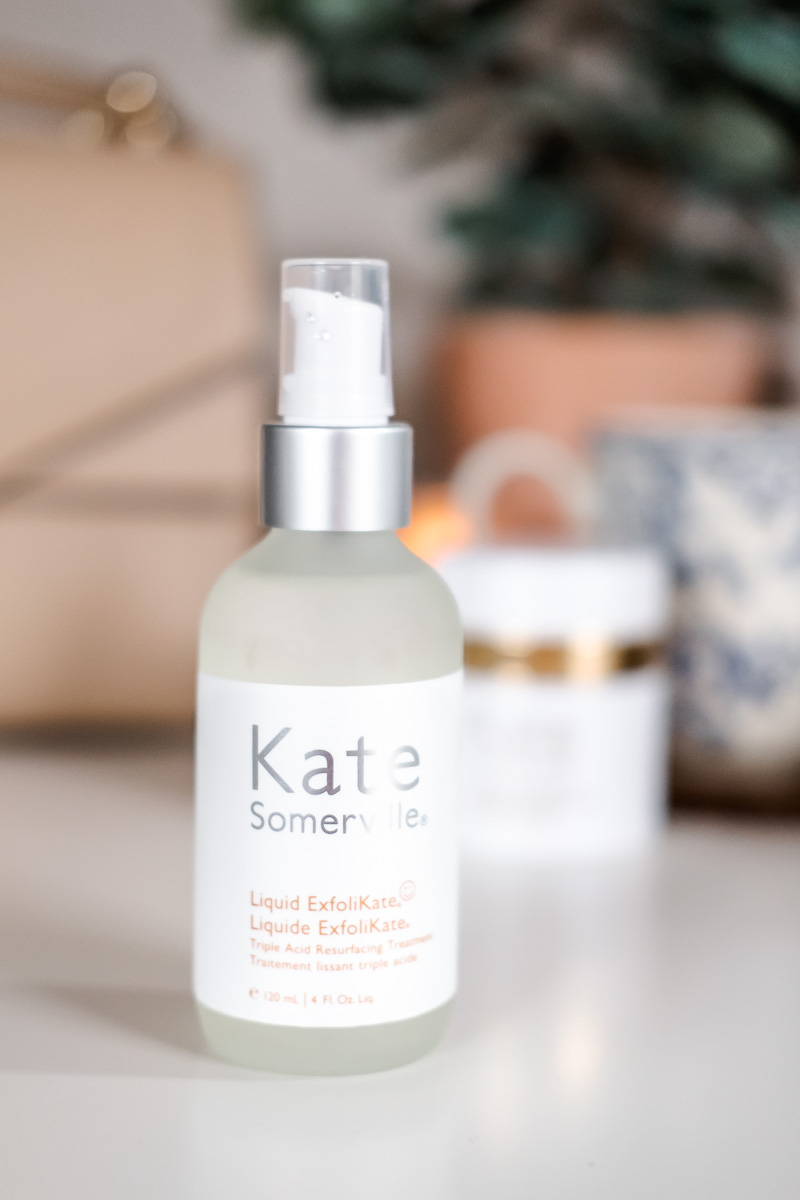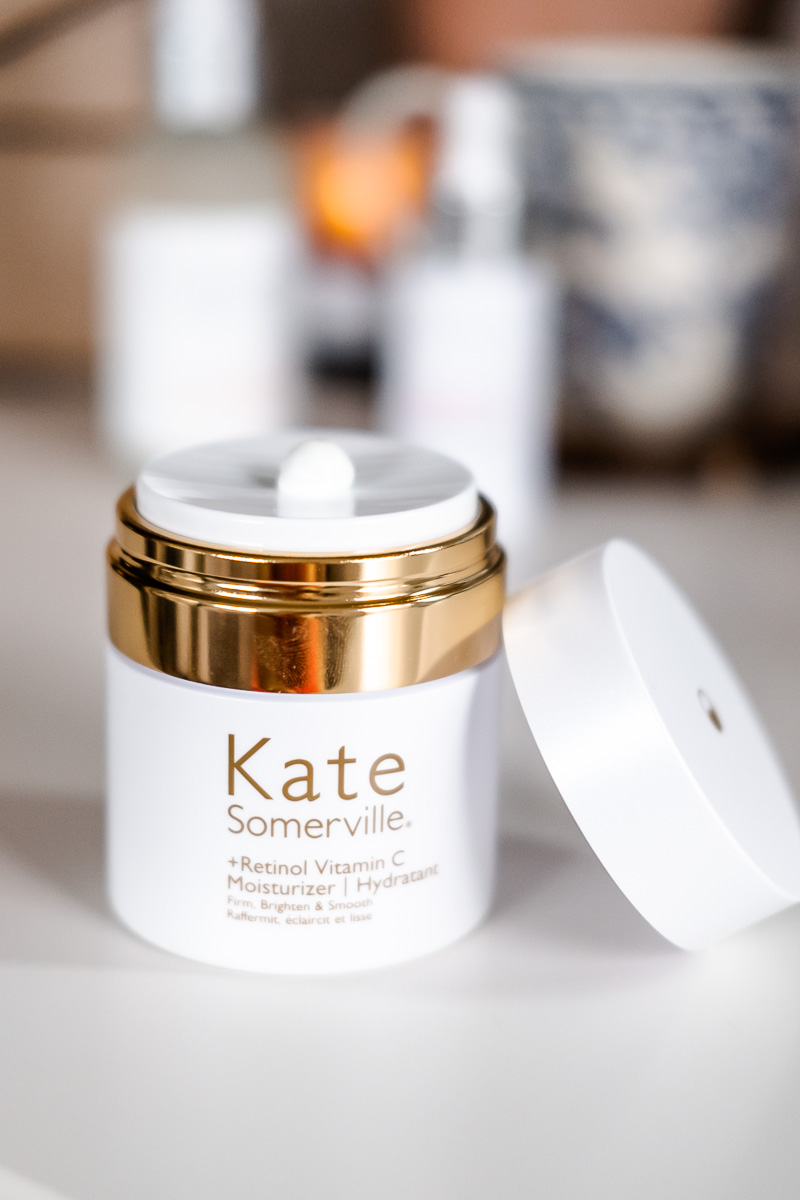 My Experience
When I first started using the Liquid ExfoliKate and Kx Active Concentrates Serum my skin was not in good shape.  I was under a lot of stress and maybe all of my poor eating had caught up with me in the form of acne. I had quite a few inflammations on my face. The Liquid Exfolikate helped my face to breath and feel clean. This is not a regular exfoliation cream. It feels more like a makeup remover, as the particles are very thin, and you can leave the product on.
The serum by itself made my skin so "firm" that in a way was actually really dry. Not a good combination when you have acne already. The first week didn't go so well, but I will blame it on my own hormones. However, I continued to use the product and applied a moisturizer from another brand. That seemed to do the trick and my skin started to feel a little moister again. Finally, a week ago I incorporated the +Retinol Vitamin C Moisturizer to my nightly routine and that was a game changer!
When partnered with the moisturizer the serum really shows it's power. The "firmness" I mentioned before is now in perfect balance with the moisturizer. The serum improves elasticity and makes my skin feels like it's being pulled up! It almost feels like my skin is taped to the top of my head, but that is a good thing! hahaha… it's just so you have an idea of the "lifting" power of this product. After the serum, I apply the moisturizer, and only one pump is necessary to cover my whole face. The cream is very smooth and it has a delicious orange smell. It dries up fast, but my skin feels instantly moisturized. It lasts all night, without making my face oily.
I really enjoy using all three products together! I think they can definitely help with the firmness, elasticity, and revitalization of my skin. I would recommend them if you are looking to invest in skincare. Make sure to ask for a sample at Ulta, Nordstrom or Sephora to see if it is a good match for your skin. Make sure to use Sunscreen while using products with Retinol.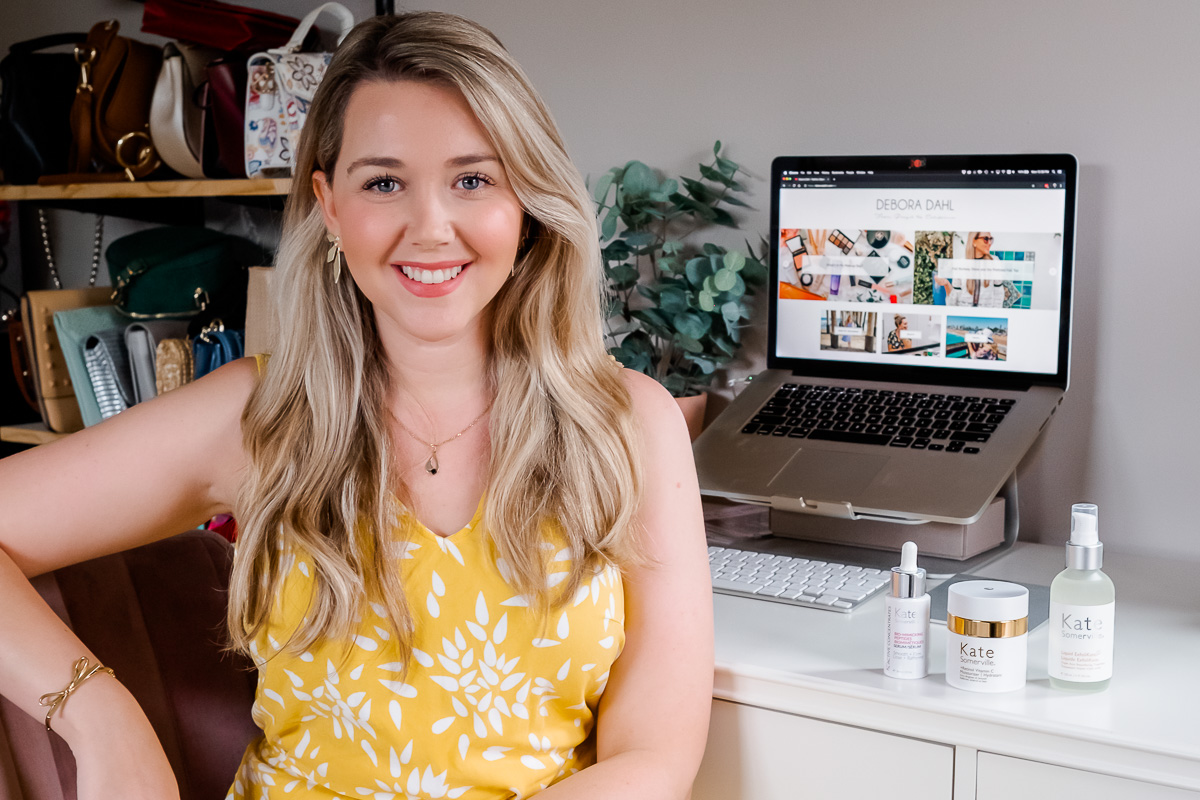 SHOP THE POST

See you next time,
Love :**