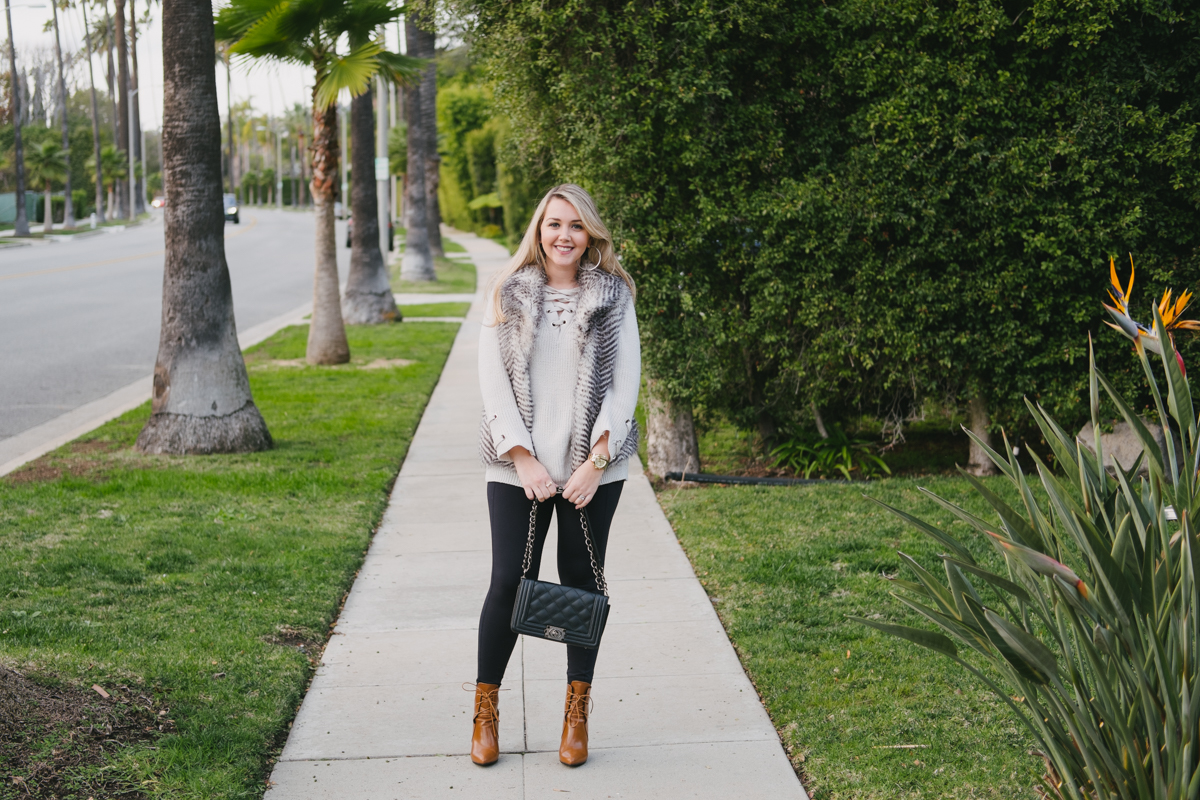 Outfit Details:
Rosewhole Sale Sweater, Faux Fur Vest (Thrift Store), SammyDress Boots, Rosewhole Sale Purse (no longer available)
Hello Everyone,
Last week my husband and I went to LA for the day and we stopped in Beverly Hills to shoot the outfit of the day. The original plan was to shoot at Rodeo Drive, but since it was Sunday, Rodeo Drive was packed with tourists and we had to settled for Canyon Drive, which is know for its Palm Trees. But I'm not complaining, I love hanging out anywhere in Beverly Hills. It's so fun to live just a short drive from exciting LA. We just need to face the traffic and go! I wrote post about Rodeo Drive two years ago that you can read clicking on the post Travel Tip: Beverly Hills.
For the #ootd I chose to wear this sweater from Rosewhole Sale that I've been wearing non-stop since they sent it to me right before Christmas. I love the trendy lace up details and how comfy the fabric is. I paired the sweater with my new/old thrifted fur vest, my latest purchase from Christmas break at my favorite thrift store, Unique, in the Minneapolis area.  I always find great pieces there, and I love a good thrift store score. To finish the production I wore black leggings, a Rosewhole Sale designer inspired purse, and the new pair of ankle boots I got from SammyDress, a great choice of boots if you like high heels.
Looking at the photos later I felt like I was channeling my inner Emma Watson from "The Bling Ring" in my fur vest in Beverly Hills (minus stealing from celebrities homes, of course). Jokes aside, faux fur is in. Last winter we saw fur vests everywhere, but this year the fur coats and shawls are keeping all the fashionistas warm. So keep an eye for a good purchase and make sure to grab some beautiful and soft faux fur this winter. Just remember to keep it classy and be your best sophisticated self this season.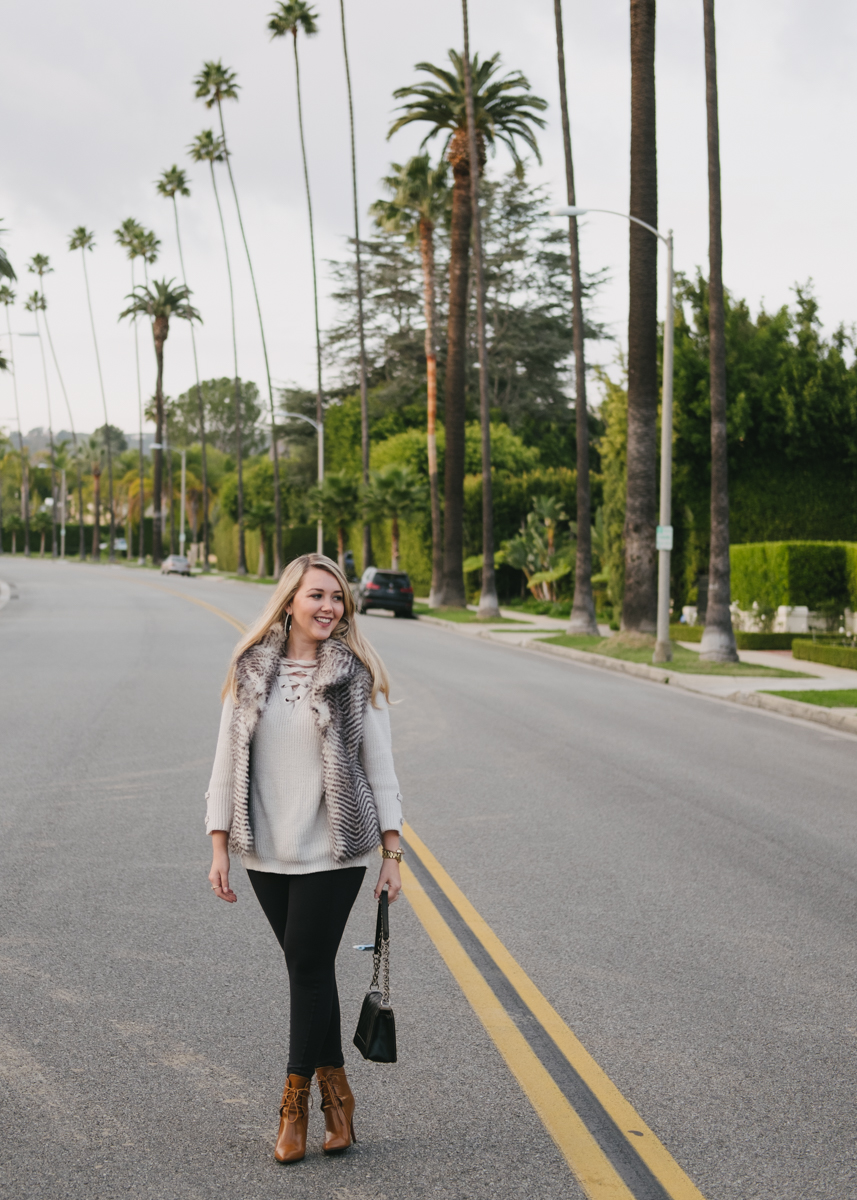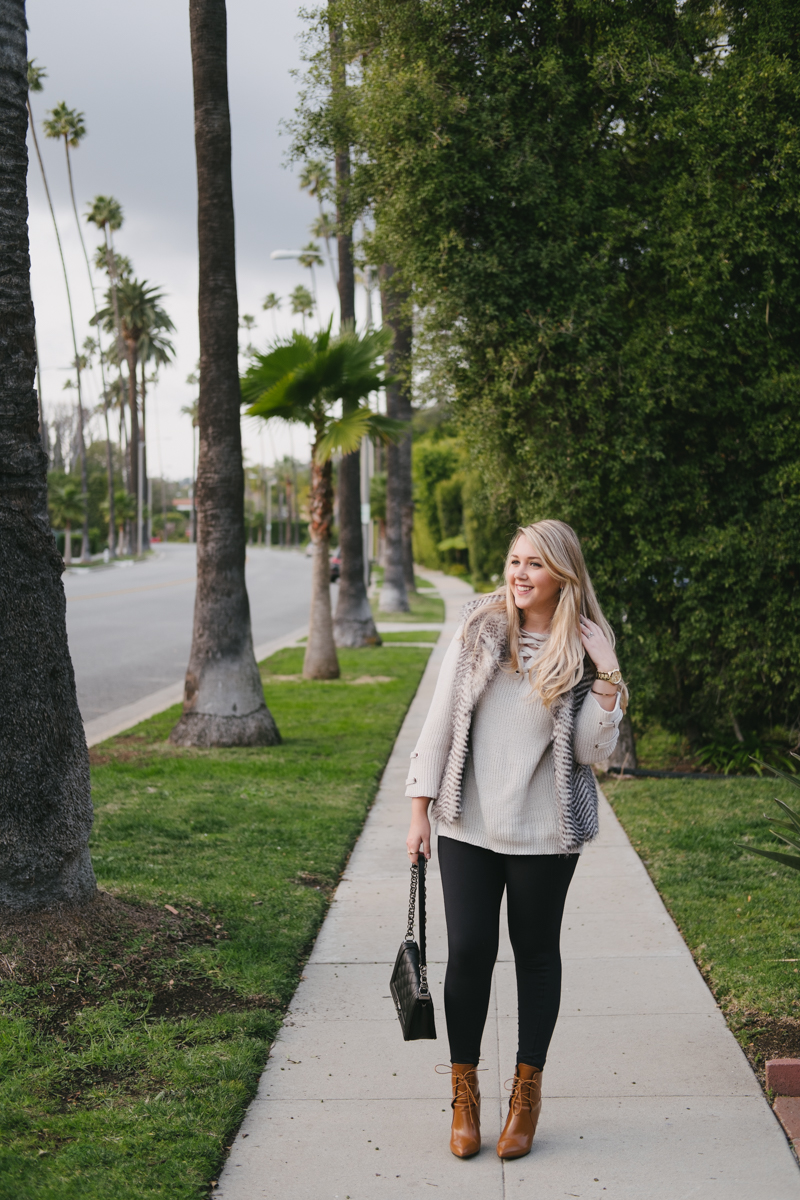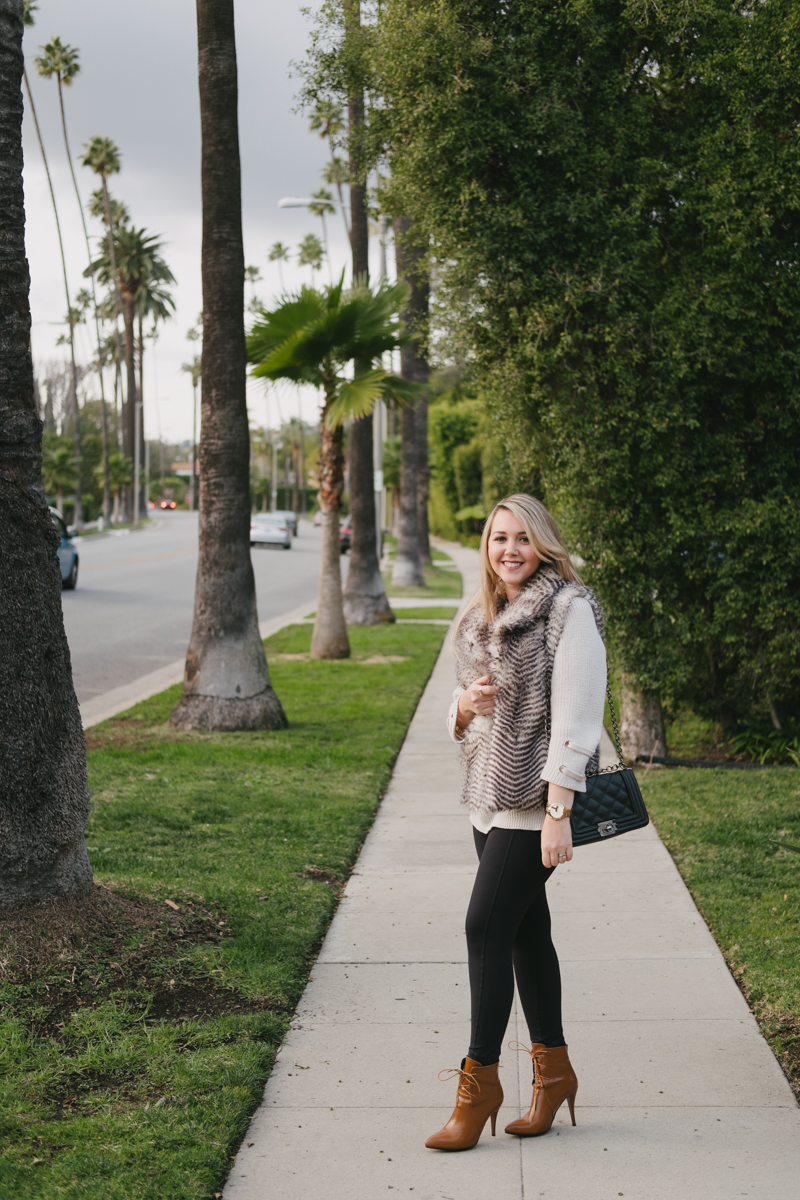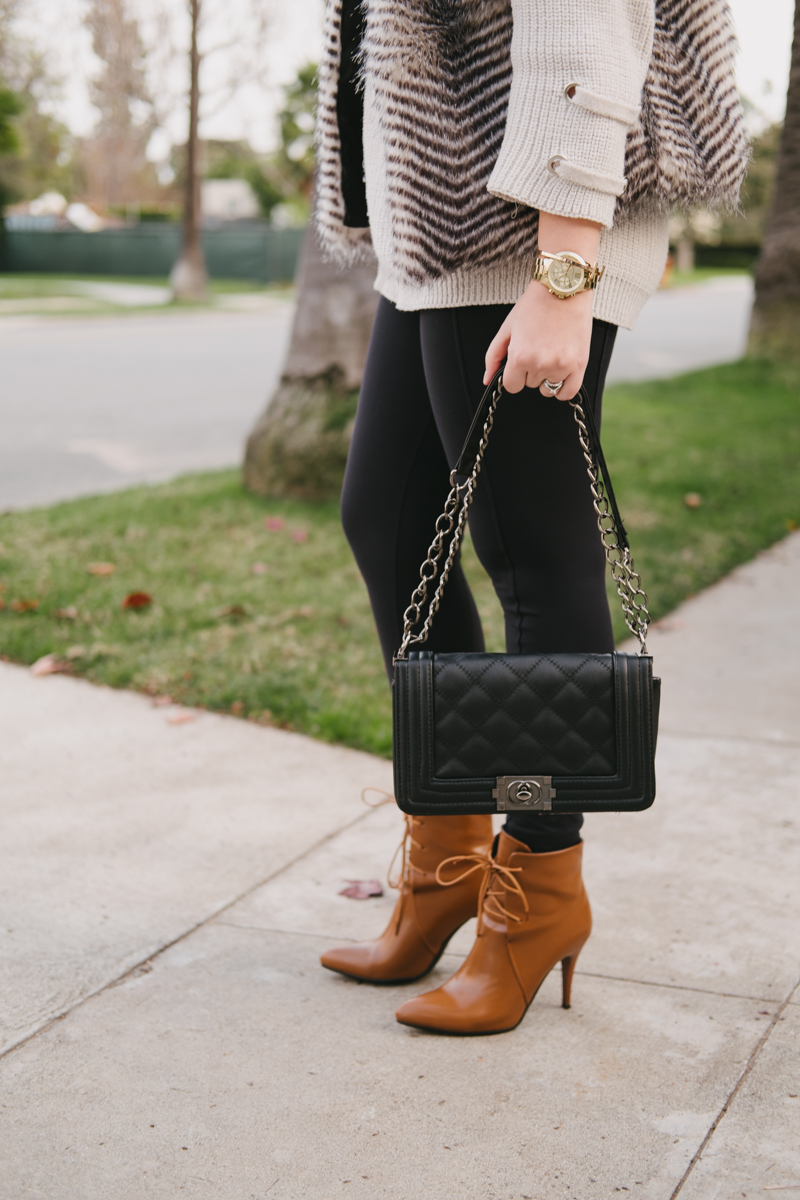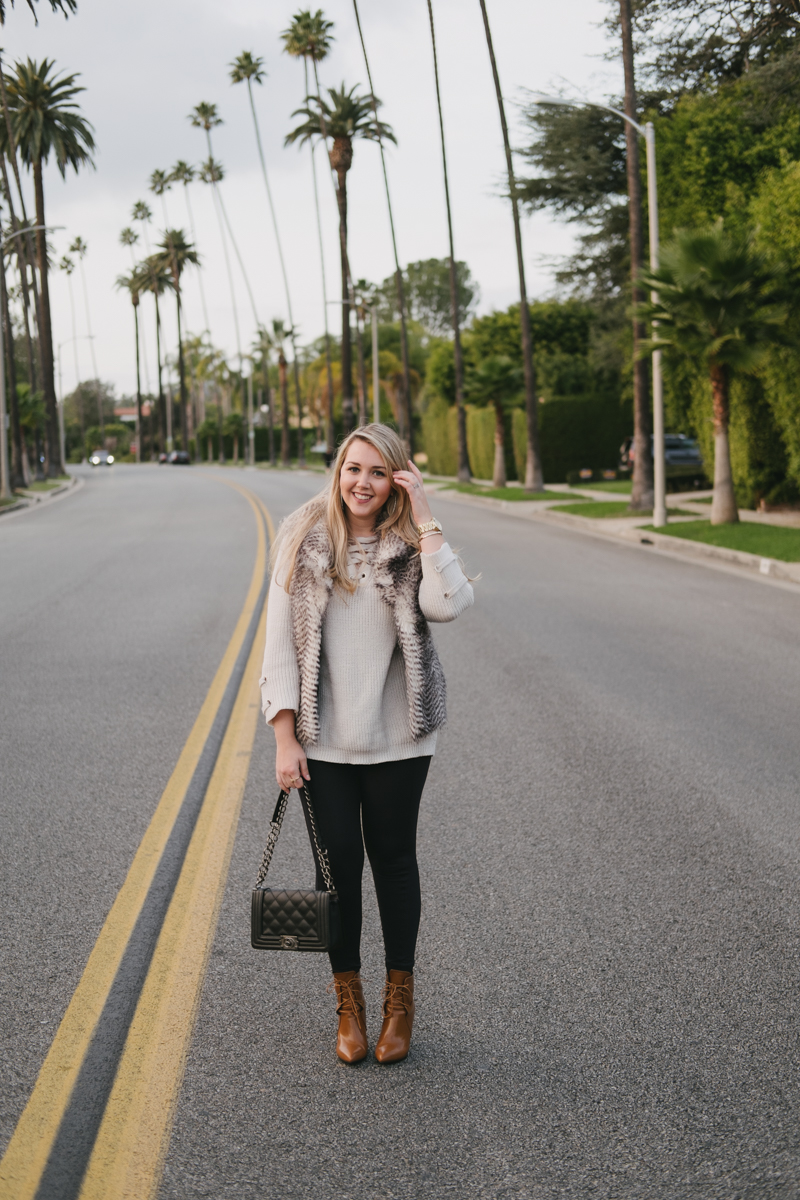 Hope you guys like the outfit of the day and don't forget to check out 
Rosewhole Sale
online store for more details.
Love,